Shropshire Quickplay Champions 2015
The winning Telepost team l to r Nigel Ferrington, John Bashall, Matthew Clark, Mark Keady (guest player), and Phil Zabrocki.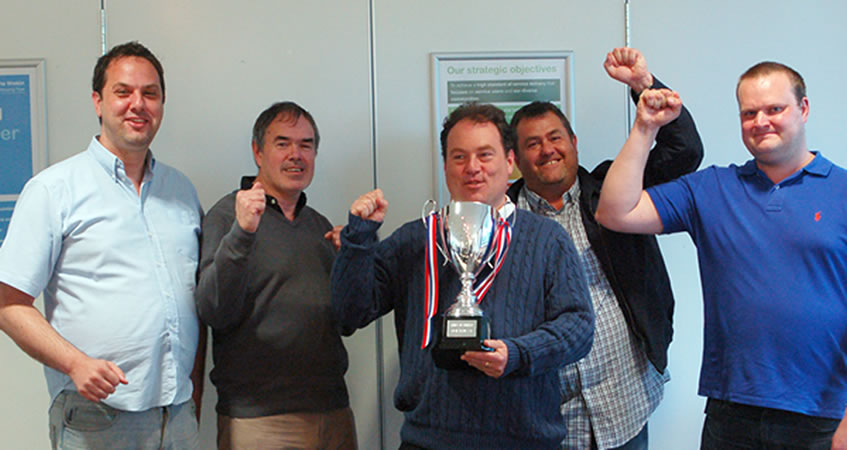 2014 Annual General Meeting
The chess club AGM was held on Monday 18th August 2014 at 7.30 pm – Minutes
July 2014 Grading List
Congratulations to Nigel Ferrington – his new grade of 208 is the highest ever by a Telepost player and one of the best Shropshire grades in our history. And congratulations to Kate Walker who steps up to 115 to become Telepost's strongest ever female player. Whilst Alasdair Benjamin 126, Quentin Mills 109, and Nick Holmes 87 all make their first appearance on the grading list. Well done all round. The full list is here .
Telepost A are 2014 Div 1 Champions 
Telepost have clinched the Shropshire chess league title with just 23 seconds to spare in a night of tension and high drama in the climatic match of the season. 
But for a few short minutes it seemed Wellington's time had come and that they were to secure their first championship in 45 years. The winner-takes-all match made history as the first Shropshire league match with the moves broadcast live on the internet thanks to the use of digital boards. 
Nigel Ferrington gave the visitors an early lead, then there was a long wait before James Kuczynski, whose excellent form has been a key reason that Wellington have been challengers for the title, beat John Bashall to level the scores. A few minutes later Wellington's new star Tiago Faustino gave the home side a 2-1 lead with two to go. On bottom board Stefan Tennant had ridden out a lot of pressure from Matthew Clark to achieve a positional and material advantage that was completely winning – and a victory would have given Wellington an unassailable 3-1 match lead and given them the title for the first time since 1969. Alas, Stefan only had seconds left on his clock and ran out of time, meaning an automatic loss, levelling the scores.  On board two Wellington's Colin Roberts had had a strong position which was undone in just one move as opponent Richard Bryant came up with a mating threat which forced Roberts to give up his queen. The drama continued, as a draw would have meant a match draw – a result which would mean Newport A would win the title. Bryant checkmated Roberts with 23 seconds left and Telepost breathed a sigh of relief, while Wellington could only rue what might have been. – Toby Neal
Nigel is 2014 club champion
Congratulations to Nigel Ferrington who beat reigning champion Richard Bryant in the last round of the Telepost club championship to finish with a perfect 5 / 5 score.
The club car park is closed – 20/01/2014 
The club car park is closed with immediate effect. The land is to become a housing development. Members and visitors are advised to use the nearest public facility – Abbey Foregate Car Park (between Asda and the Abbey). Apologies for the inconvenience. Keith Tabner Chess Secretary
Shropshire Quickplay Champions 2013
The winning team l to r Noel Kiffin, John Bashall, Kate Walker, Nigel Ferrington, Phil Zabrocki.
Review 2011-12
2011-12 has been one of our most successful seasons ever.
Telepost A are Div 1 champions and also won the inaugural rapidplay tournament.
Telepost B are Div 2 champions and Telepost C won the Minor Knockout.
Telepost D are the county's only D team and blooded several new players.
Nigel Ferrington (grade 201) joined the exclusive 200 club and became both Shropshire County Individual Champion and Shrewsbury Town Champion.
Telepost League & Cup Double 2008 and again 2010