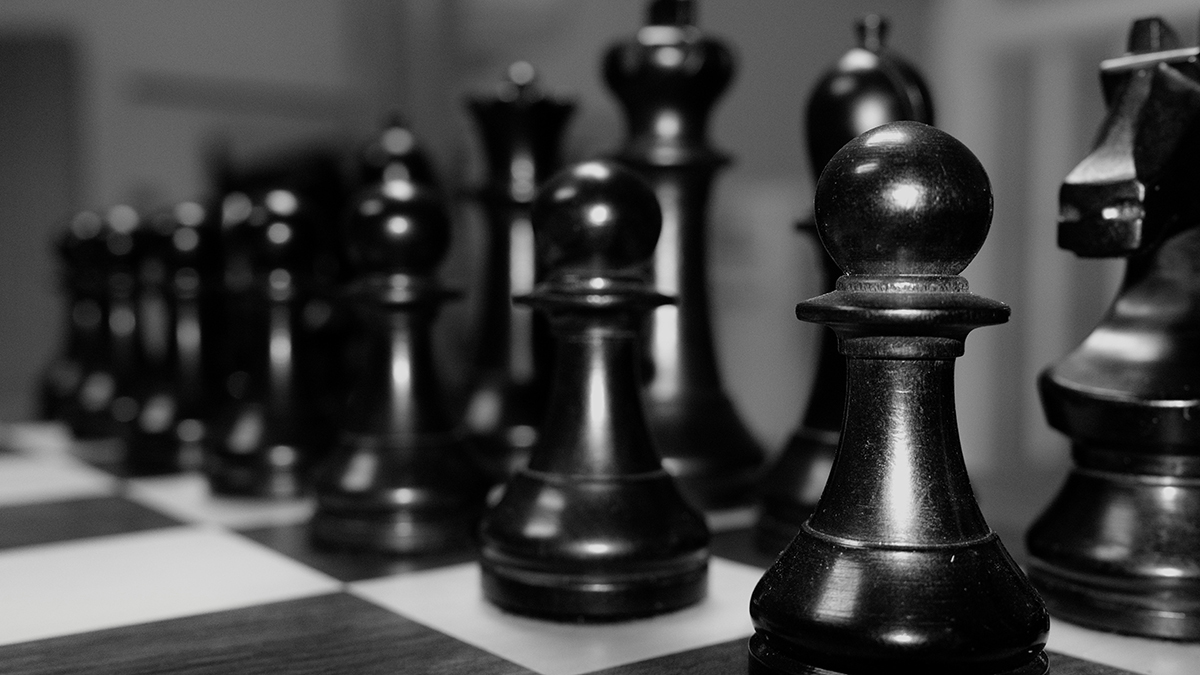 PHOTO ALBUMS
2022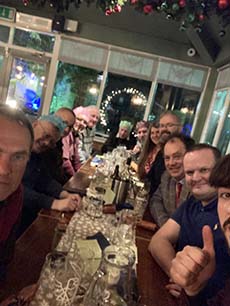 2022 Christmas meal at the Coleham Tap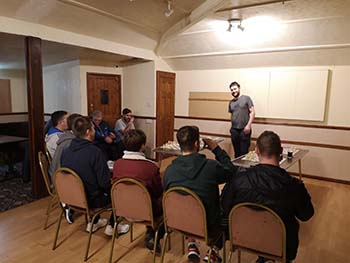 Rob Nield training session, Dec 2022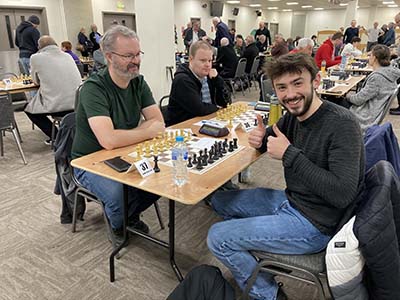 Fred Bench (right) and James Holyhead in a club derby at Crewe Congress, Oct 2022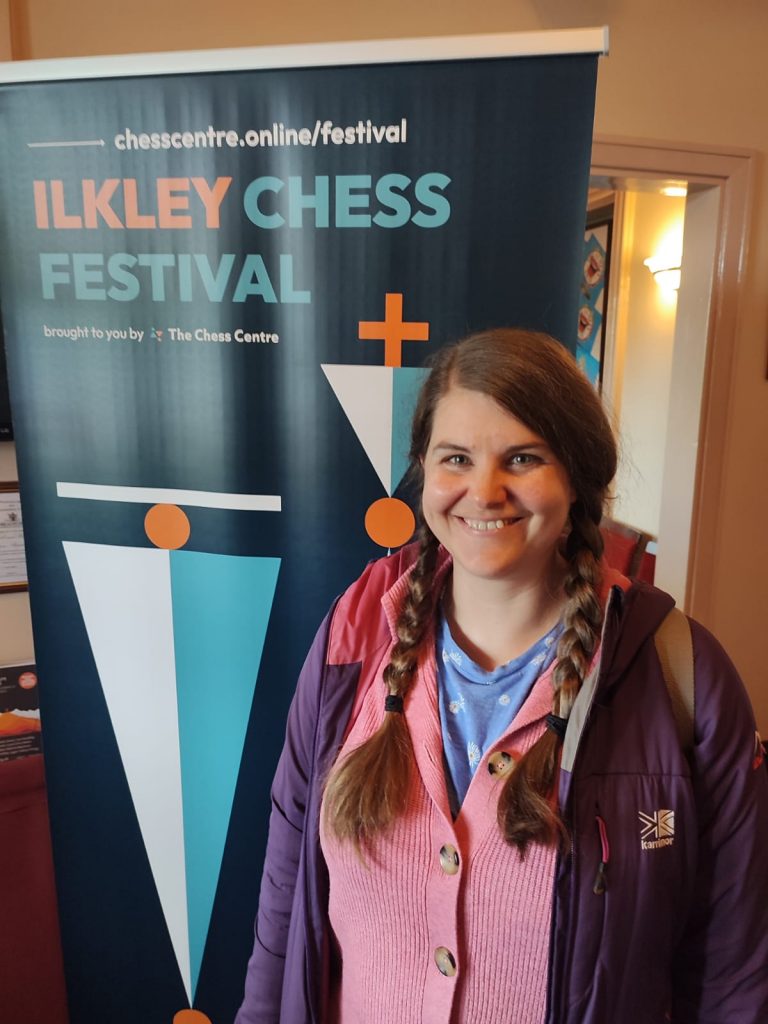 Kate Walker, joint winner in Intermediate section, Ilkley Chess Festival, Sep 2022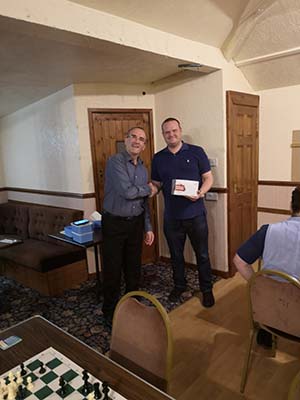 Paul Billington presents Phil Zabrocki with his Banter Beer, Aug 2022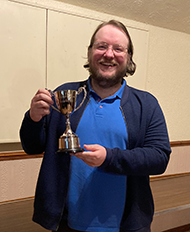 Nat Paul, Shrewsbury Town Champion 2021
Organiser Paul Billington presents 2021 Shrewsbury Town Champion Nat Paul with the cup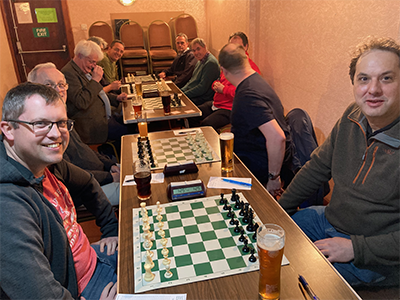 Telepost A prepare to take on Shrewsbury A, Apr 2022
Blackpool 2022 – Kate Walker, in joint first, prepares for the final round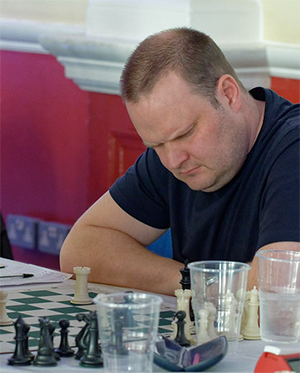 Blackpool 2022 – Phil Zabrocki ponders an endgame and some unusually empty glasses
2021
Chess in a time of covid – Dennis Bonner brandishes the 2020 Division 2 trophy won by Telepost C in a Shropshire Zoom AGM.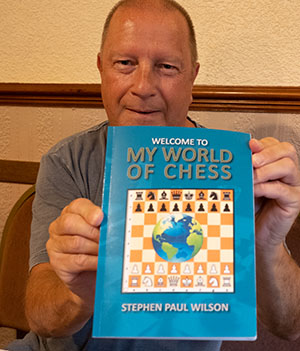 Steve Wilson with his newly published book, My World Of Chess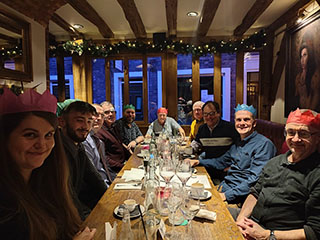 2021 Christmas meal at Henry Tudor, as another lockdown looms
Concentration (and beer!) returns to the club for the Nat Paul simul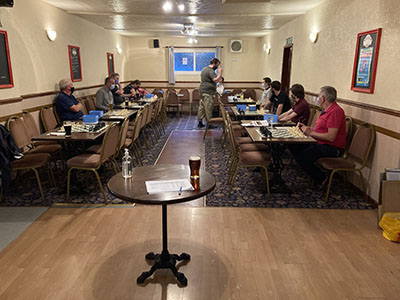 Sanitiser, check-in forms (and more beer…) to the fore as the simul begins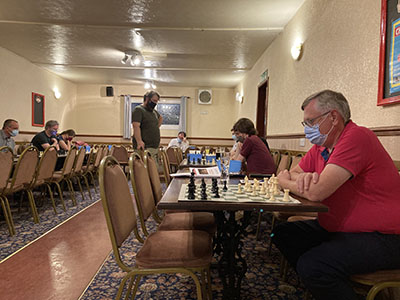 Nat faces a trio of new members as event organiser Dennis prepares his next move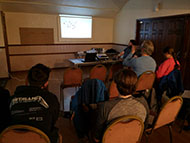 A good turnout for Nat Paul's training session, October 2021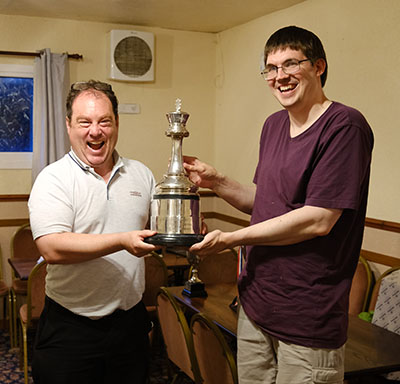 Matthew Clark receives the Division 1 Trophy for 2020-21 won by Telepost A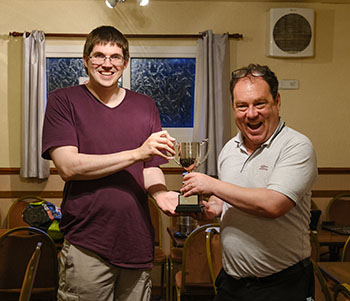 Matthew Clark receives the Rapidplay Trophy for 2020-21 won by Telepost A
Nick Holmes receives the Shropshire Minor Individual Trophy for 2020-21
2017 – 2020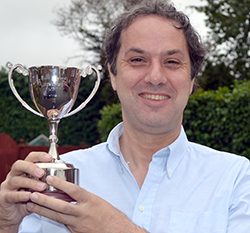 Nigel Ferrington with Colin Roberts Memorial Prize, 2020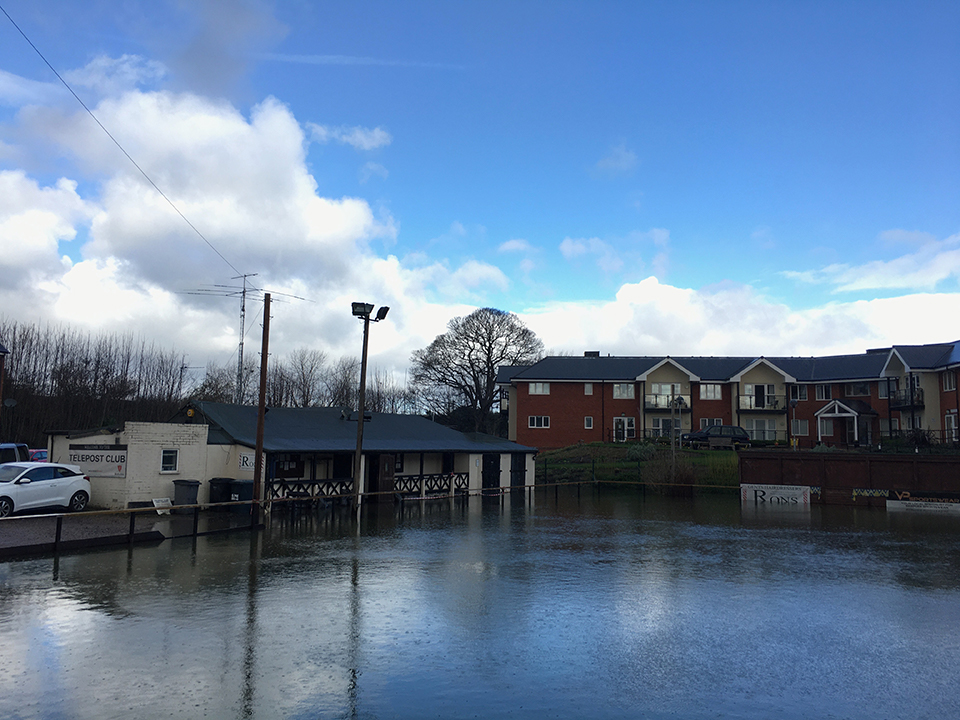 Flood waters at the door of the club, Feb 2020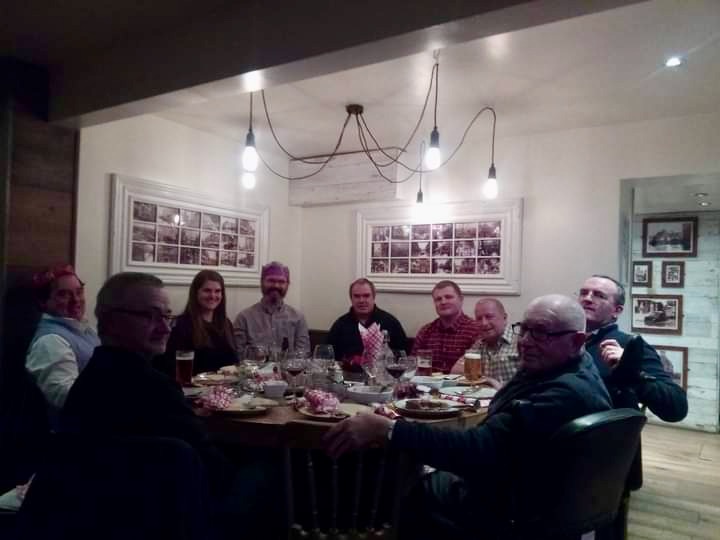 Telepost Christmas Dinner 2019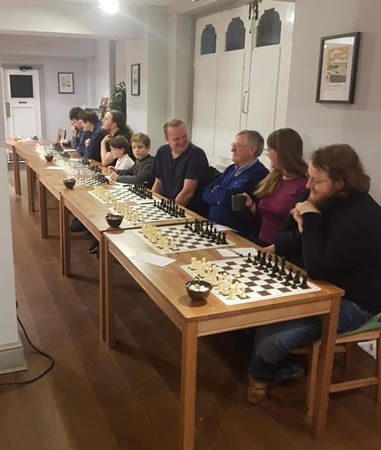 Telepost members Nat Paul (member of Newport at the time), Kate Walker, Dennis Bonner, Phil Zabrocki at Lawrence Cooper Simul, Nerdy Coffee Co, November 2019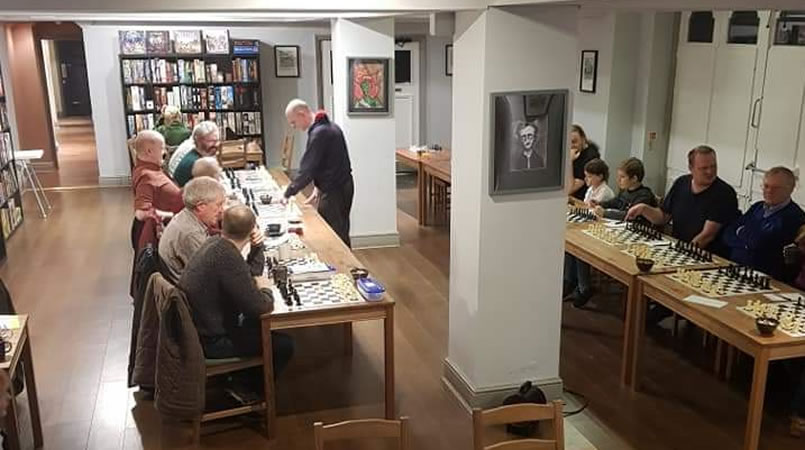 Lawrence Cooper Simul, November 2019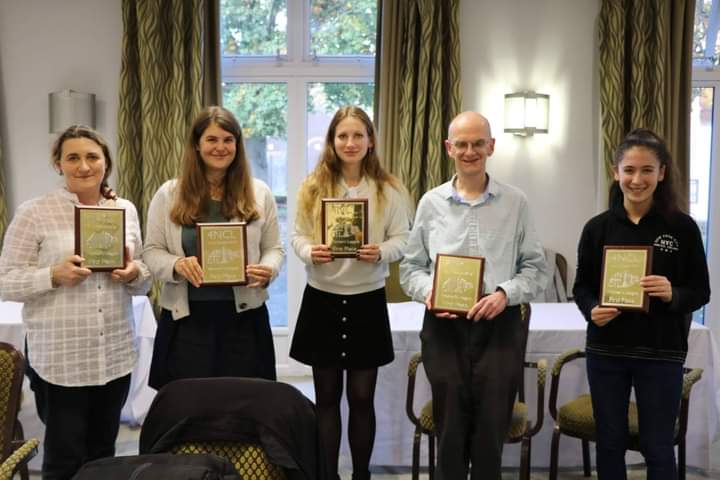 Shropshire Women, 4NCL Women's Team Event winners , Oct 2019. Kate Walker second left. Lawrence Cooper captain.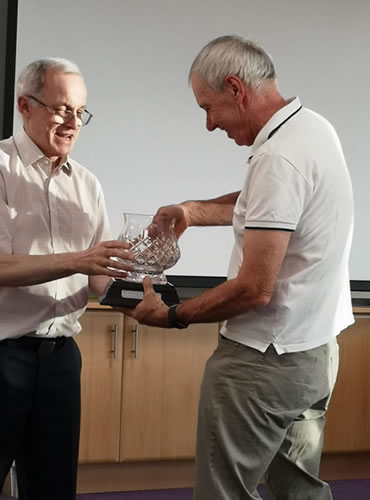 John Westhead (right) Shropshire Minor winner Season 2018-2019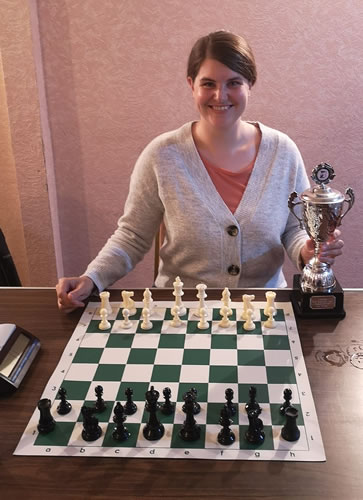 Kate Walker, ladies' champion in her category in the English Chess Federation Grand Prix 2019
National Club Championship winners 2018 – John Bashall, Matthew Clark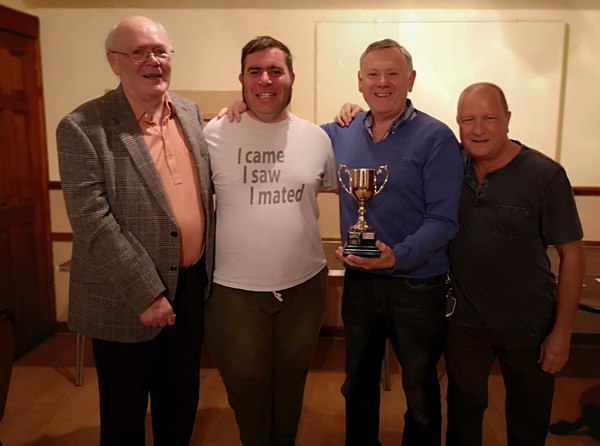 National Club Championship winners 2018 – Graham Shepherd, Shane Sweeney, Dennis Bonner, Steve Wilson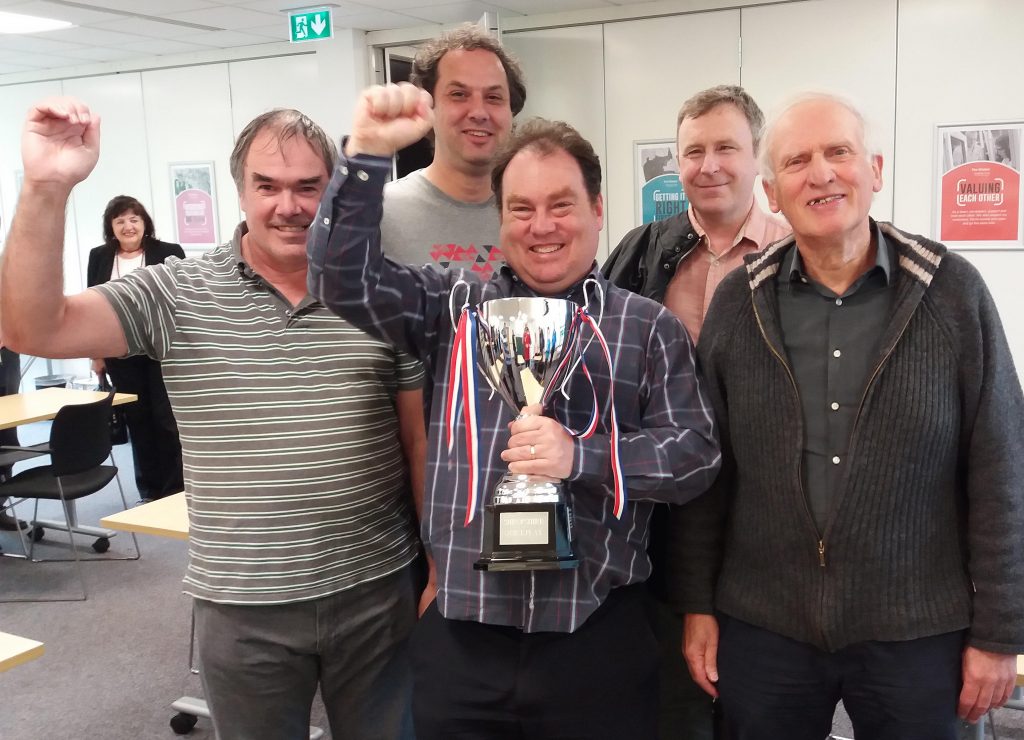 Team Rapidplay Winners 2018 – from left, John Bashall, Nigel Ferrington, Matthew Clark, Trevor Brotherton, Richard Bryant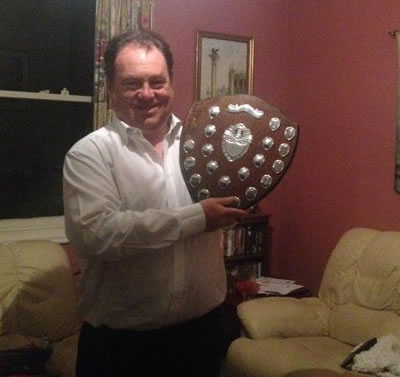 Matthew Clark with Cox Trophy 2017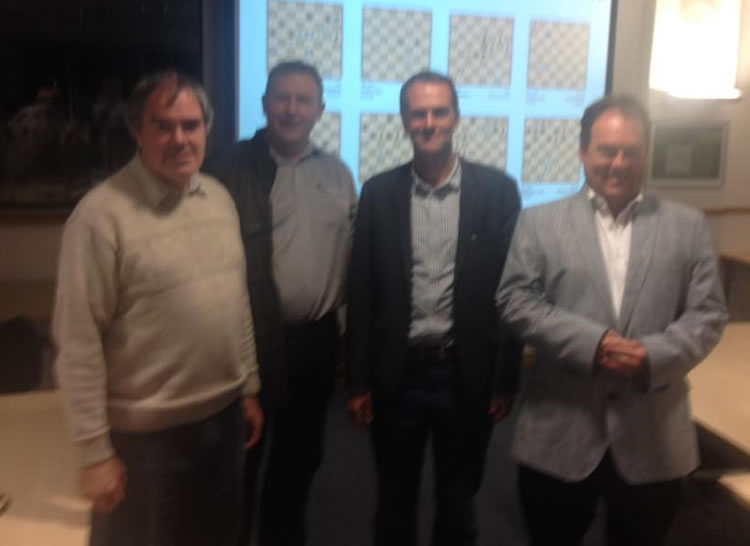 2017 Cox Trophy winners John Bashall, Trevor Brotherton, David Hodge and Matthew Clark
Fine dining for Christmas 2017
2012 – 2016
Keith Tabner, Club Secretary 1997-2017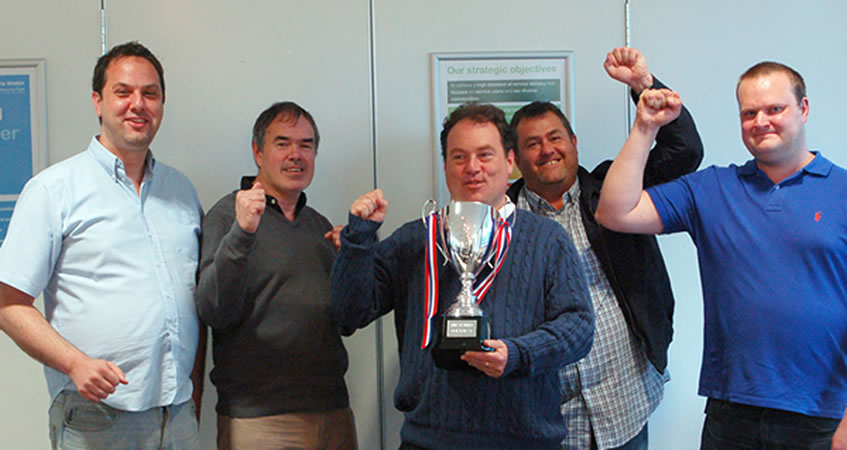 Telepost Shropshire Quickplay Champions 2015 – Nigel Ferrington, John Bashall, Matthew Clark, Mark Keady (guest player), and Phil Zabrocki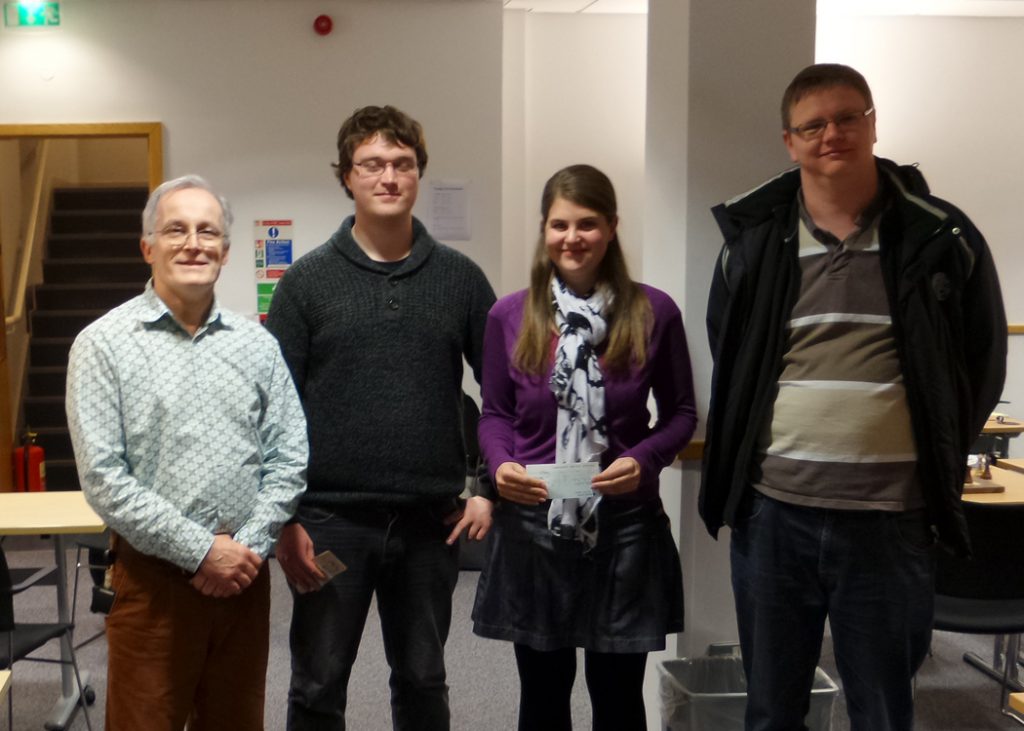 Kate Walker receives her winnings for joint third in the Minor of Shropshire Congress 2015
Shropshire Rapidplay winners 2015 – John Bashall, Nigel Ferrington, Noel Kiffin, Phil Zabrocki and guest star Willliam Bates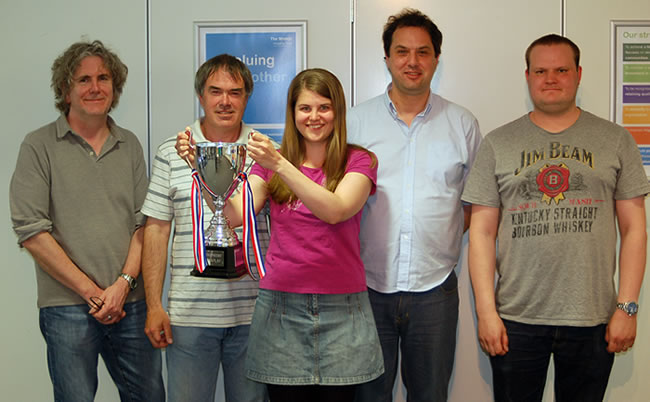 Shropshire Quickplay winners 2013 – Noel Kiffin, John Bashall, Kate Walker, Nigel Ferrington, Phil Zabrocki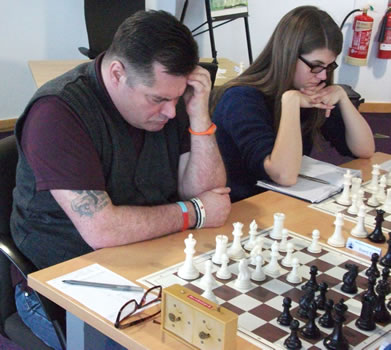 Dean Pinnington and Kate Walker at Shropshire Congress 2013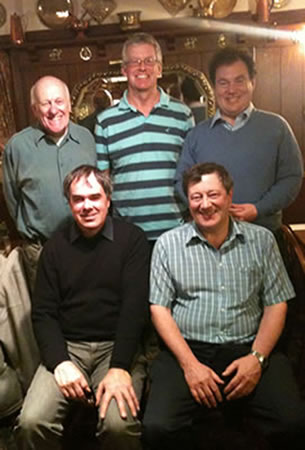 Telepost B 2012 look relaxed in front of a trophy cabinet. Back row: Keith Tabner, Steve Kempsell, Matthew Clark, Front row: John Bashall and Bob Simpson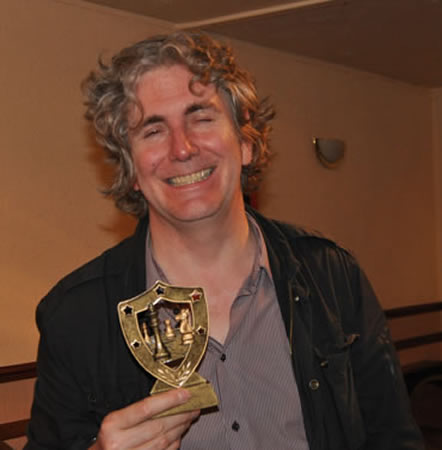 Club champion 2012 Noel Kiffin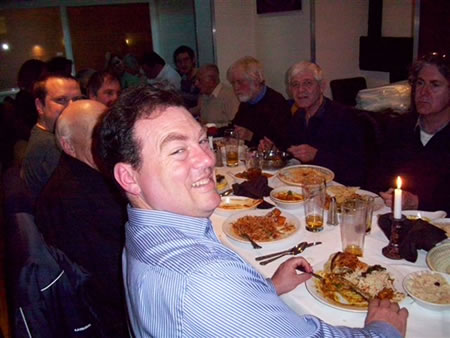 A break from chess at the Indian restaurant, 2012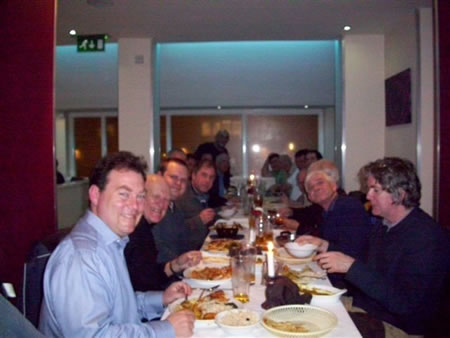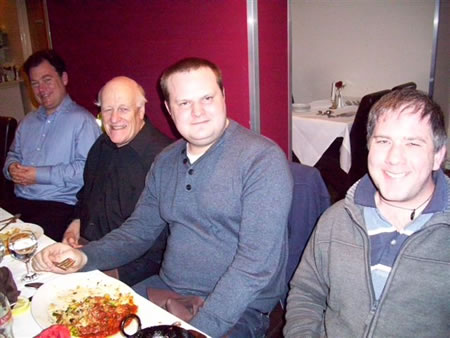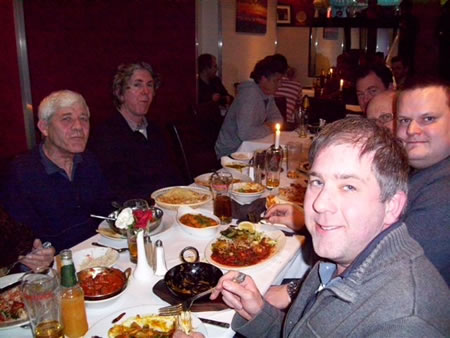 2008 – 2011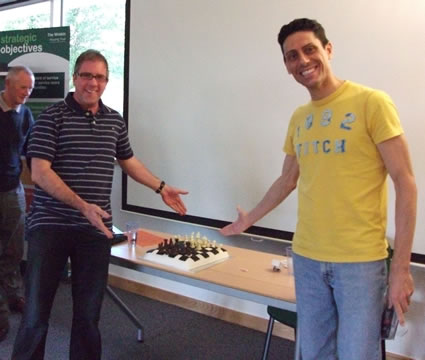 Vinnie Crean with CJ De Mooi, winning the cake raffle at Nigel Short Simul (2011)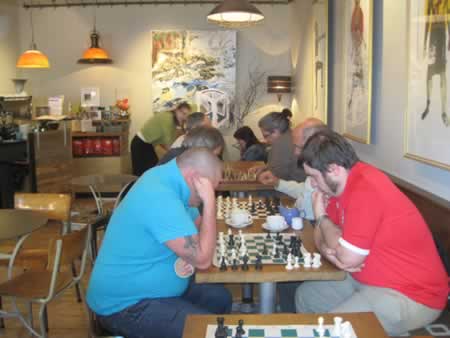 Chess in a coffeehouse (21/5/2011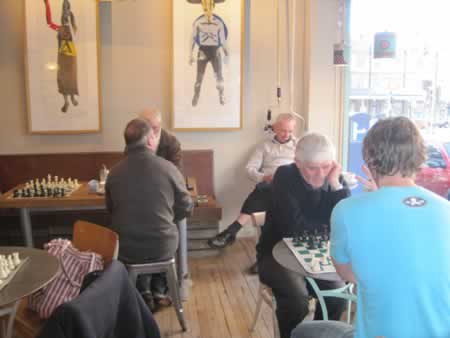 Telepost A – Division One champions 2010 – David Bates, Nigel Ferrington, John Bashall, Keith Tabner and captain Richard Bryant (seated)
Telepost B – Division Two champions 2010 – Vinny Crean, Phil Zabrocki, Bob Simpson, Steve Kempsell, John Westhead and captain Peter Crean (seated)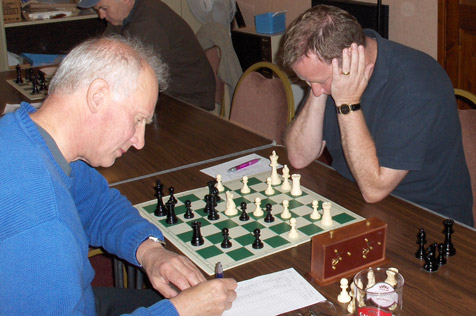 Richard Bryant v David Bates in the 2009 club championships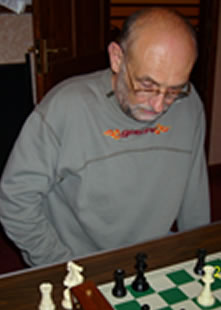 Charles Micallef ponders his next move (2009)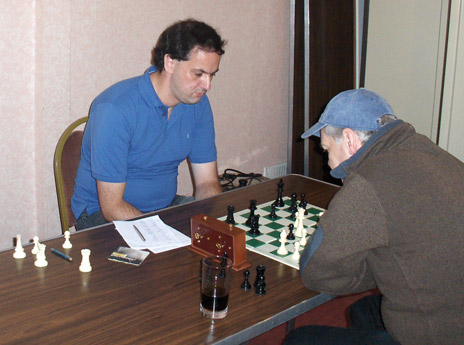 Nigel Ferrington clinches the 2009 County Individual Championship v Simon Hughes
Adrian Bowyer in action against Keith Tabner (2009)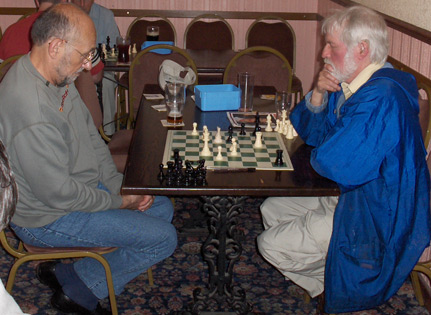 Charles Micallef v Brian Holdford (2009)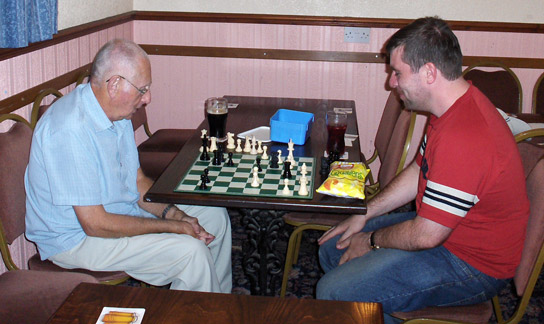 John Casewell plays Shane Sweeney (2009)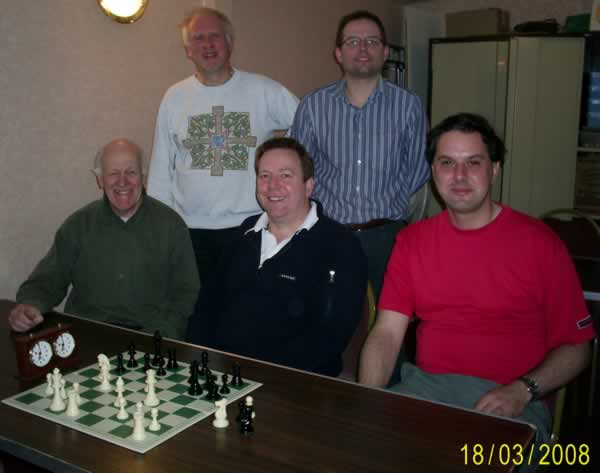 Telepost A – League and Cup Double winners 2008. Standing – Richard Bryant (captain), Jamie Hopkins. Seated – Keith Tabner, David Bates, Nigel Ferrington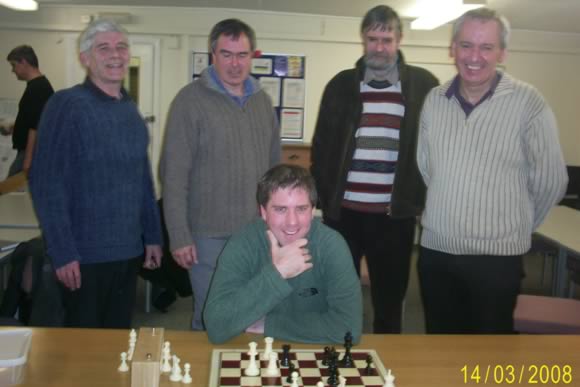 Telepost B – Div Two champions 2008 – Peter Crean (captain), John Bashall, Gordon Thomas, John Westhead and Vinnie Crean (seated)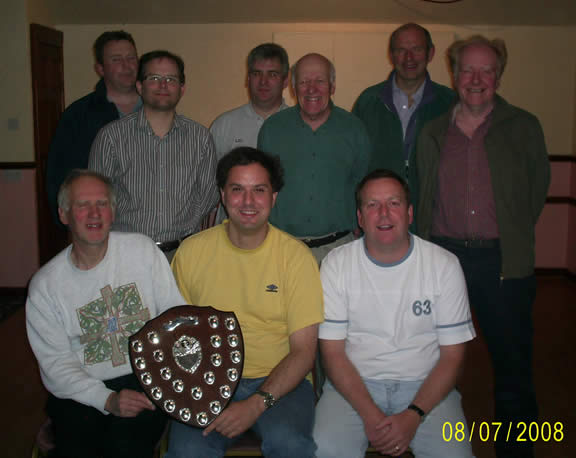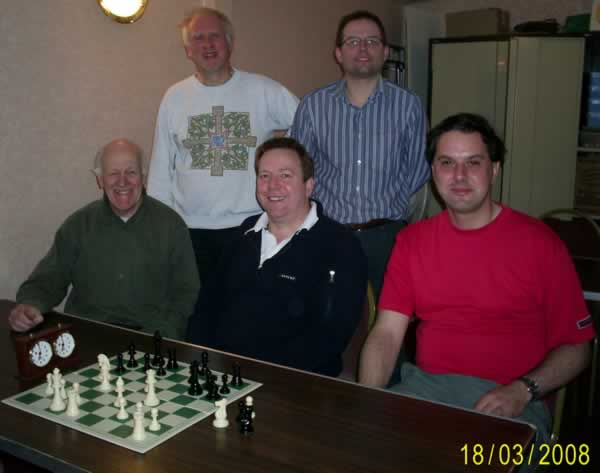 2000 – 2007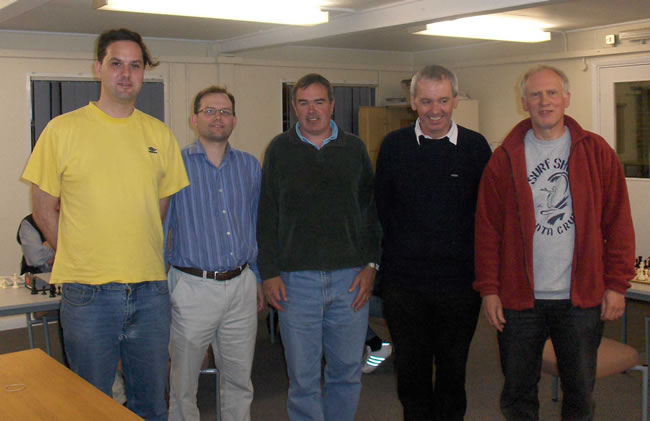 Telepost win Winter Cup 2006-7 – Nigel Ferrington, Jamie Hopkins, John Bashall, John Westhead, Richard Bryant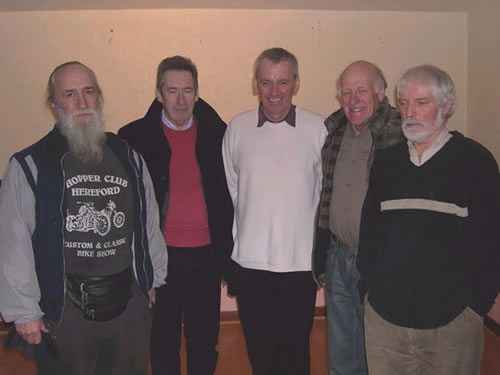 Telepost C – Division Two champions 2006 – Steve Jones (capt), John Liddell, John Westhead, Keith Tabner, Brian Holdford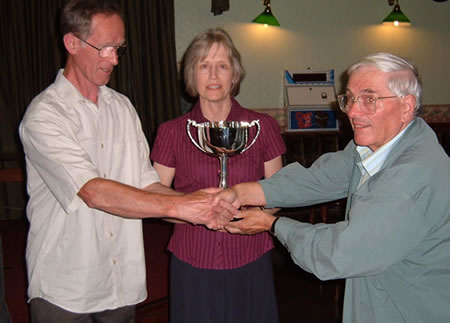 At the 2006 AGM Roy and Sue Allen present the new Neil Allen Trophy for Div 3 to winners Market Drayton captain Ray Thomas. This follows the sad death of Neil shortly after captaining the A team to the 2005 league title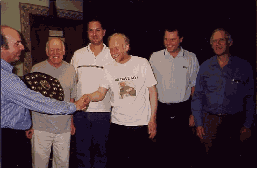 Glyn Pugh (Coddon) presents Telepost A captain Dave Bryan with the Cox Trophy for the 2003 summer cup, watched by teammates Keith Tabner, Nigel Ferrington, Steve Rawlins, and Richard Bryant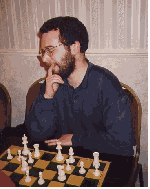 Gary Owen moved to the Wrexham area in 2002. We wish him well
Vincent Crean and John Bashall planning their next moves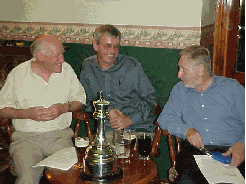 Keith Tabner, John Westhead, and John Casewell at the 2002 Shropshire League AGM (picture courtesy of Colin Roberts)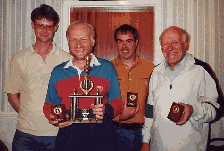 The Telepost A Team after winning the Shropshire Division 1 Championship in 1999-2000. Nigel Ferrington, Neil Allen, Dave Bryan, John Bashall, and Keith Tabner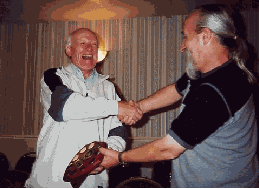 Steve Jones (right) personally presents the new Steven Jones Trophy for the Club Individual Championship to Keith Tabner (Sept 2000)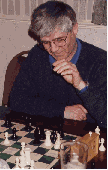 Peter Crean at the board (2000)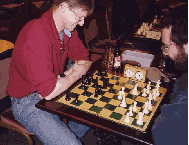 Neil Allen has the black pieces against Gary Owen (2000)
1980s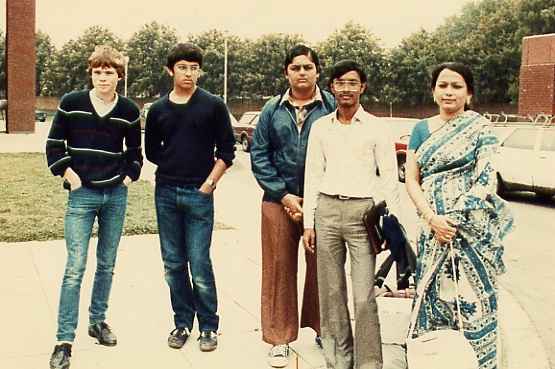 An early 1980s picture of James Clarke and Paul Mukherjee with Indian grandmasters Ravikumar, D.Barua, and an unidentified WGM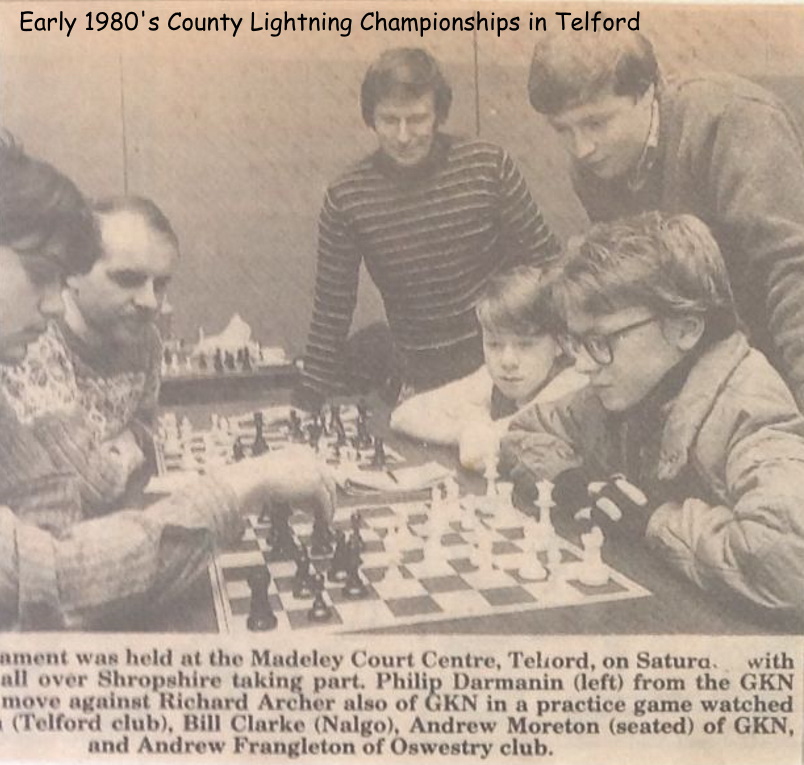 Early 1980s County Lightning Championships in Telford
1980 County Lightning – standing John Casewell, ?, John Bashall, Paul Mukherjee, Andrew Cowdroy, James Clarke, Humphrey Dunn, Bill Clarke, seated Brian Holland, Ian Casewell
James Clarke being presented with the County Champioin's Cup 1984, aged 17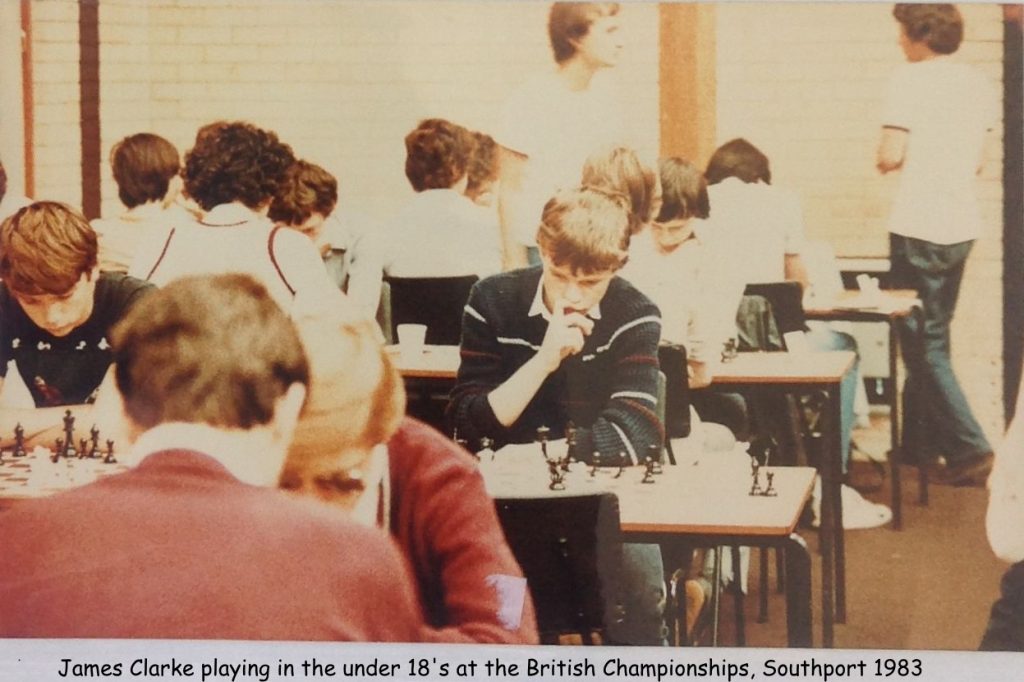 James Clarke playing in the under 18s at the British Championships, Southport 1983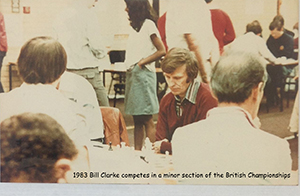 Bill Clarke competes in a minor section of the British Championships, 1983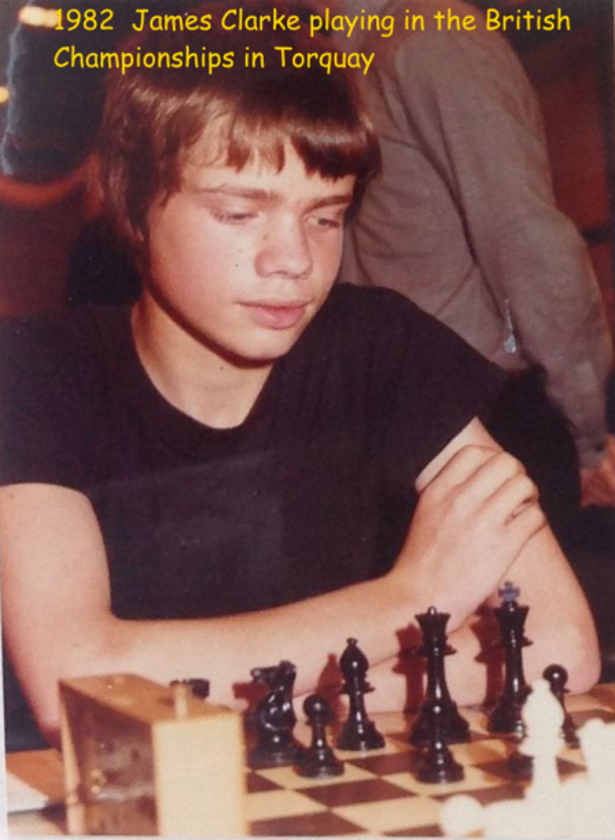 James Clarke playing in the British Championships in Torquay, 1982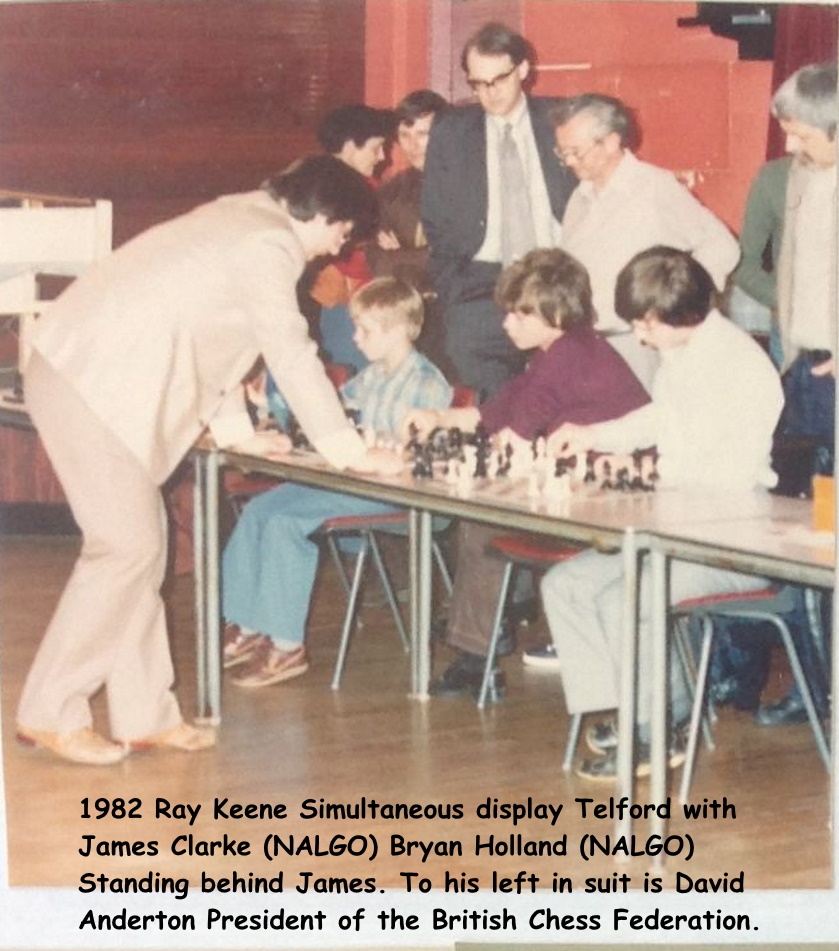 Ray Keene simultaneous display, Telford, with NALGO's James Clarke and Bryan Holland (standing behind James). To his left in suit is David Anderton, President of the British Chess Federation.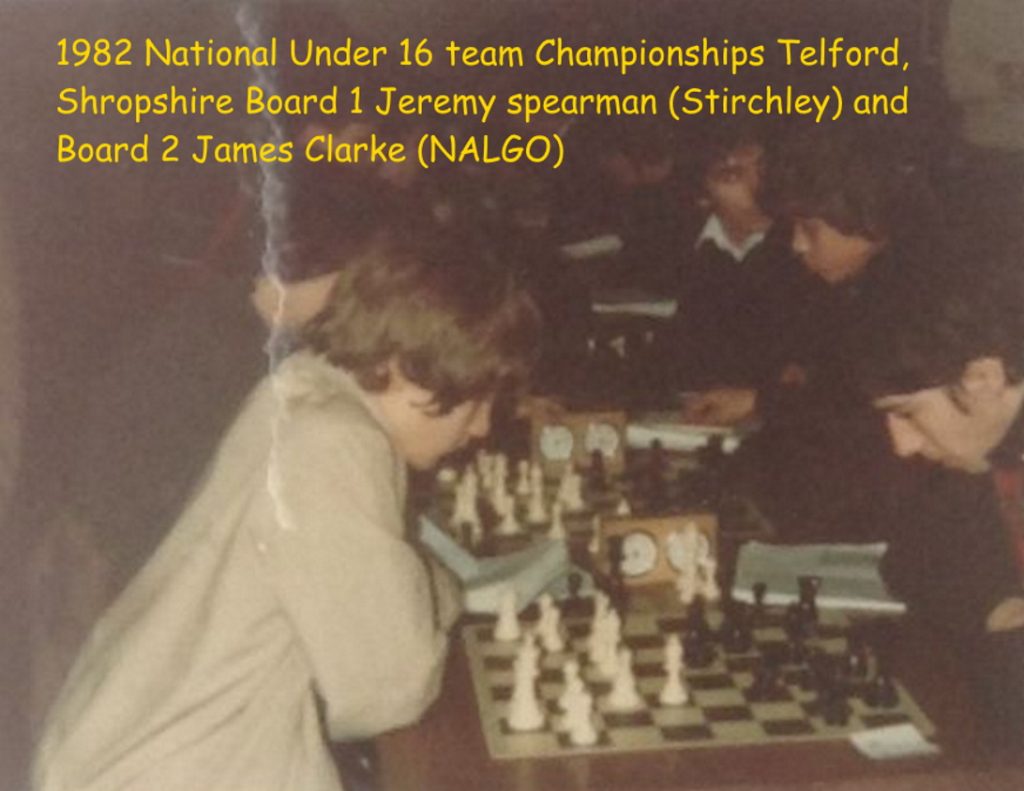 1982 National Under 16 team championships, Telford. Shropshire Board 1 Jeremy Spearman (Stirchley) and Board 2 James Clarke (NALGO)
1982 National Under 16 – Andrew Frangleton (Oswestry) and Paul Smith (GKN Sankey) watched by Bill Clarke. Shropshire finished a creditable third place.
1982 National Under 16 – NALGO members Joy Mukherjee (second left), Gordon Thomas (standing fourth left), Bill Clarke (far right)
1980 simultaneous display by Victor Korchnoi at Telford