12/01/23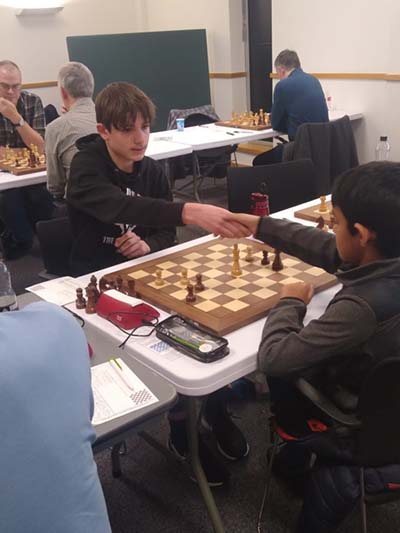 Sam Hollands shakes on his final-round win to take the Shropshire Minor title
As Congress debuts go, this one was pretty special. Telepost Junior Sam Hollands scored a superb 4.5/5 in the Minor section of the reborn Shropshire Congress to take joint first prize. Sam won his first three games, all against players rated above 1400, before drawing against the early front runner and top seed Nigel Gardner, leaving him facing another highly impressive Junior, Amitesh Purushothaman of Coventry Chess Academy, in the final round. Amitesh had reached top spot ahead of the final round courtesy of a narrow win against Telepost's Cesar Pileggi, who was also making an impressive Congress debut, eventually finishing on 2.5.
The Congress was being held for the first time since lockdown – largely due to the efforts of organisers Phil Love, Chris Lewis and Telepost's Dan Hilditch-Love – and featured the use of live boards for the top two games in each section. This innovation – live boards are reserved purely for the top boards of the Open section in most congresses – meant Sam's final-round match against Amitesh could be followed on screens around the Wrekin Housing Trust venue and by Sam's parents and other spectators watching from home. After a finely matched opening and middlegame, a long sequence of piece exchanges led to a pawn and king ending in which Sam turned a slight disadvantage of an isolated pawn into a winning position by establishing a dominant king in the centre of the board. The position was similar to that reached by Cesar against Amitesh in the previous round but Sam held his cool to find the winning line. The match can be viewed on the live matches feed on the Shropshire Chess website here.
Sam with his medal – presented to all Juniors scoring 2.5 or more. Photos courtesy of Chris Lewis and Phil Love
Other notable performances from Telepost players included two wins in the Minor for Charlie Bethune, also in his adult congress debut, 3/5 for Nick Holmes in the same section, the same score for Kate Walker in the Intermediate, despite losing to clubmate Steve Wilson in round two, and an unbeaten but draw-laden 2.5/5 for Matthew Clark in the Major. Full results and lots more photos are available here.
Sam continued his form the day after the congress, picking up a win for Telepost E against Telepost C's Vinnie Crean in the first club derby match of the new year. The C team had taken the lead with wins for Kate Walker and Dennis Bonner but Cesar Pileggi continued a strong run of results with a win against James Holyhead to level up the score and leave the match hanging on a swashbuckling board-four encounter between Matt Ryan and Nick Holmes in which both players paid arguably too little heed to their opponent's threats as they tried to push home opposite-side castling attacks. Time trouble for Matt was decisive as Nick survived a mating net to win for the Cs, taking them back to joint top of Division Two. Meanwhile Telepost D, minus one player, travelled to Dawley to take on the other top spot team, Telford A, suffering a 5-0 whitewash.
In a busy week, the two Division Two matches bookended a highly successful and enjoyable online Arena event to mark the 45th anniversary of the founding of the Nalgo club which eventually became Telepost Chess Club. The event, organised by John Casewell and held on Lichess, featured a 5/3 time control and ran for 90 eventful minutes. An excellent turnout of 15 players included three generations of the Casewell family and the 64 games played featured probably the longest-distance matches of the club's history with Ricky Pugh joining the action from New Zealand. Nigel Ferrington pipped Phil Zabrocki by two points to take the title, with an impressive third place from Peter Crean. George Casewell cheekily leapfrogged Grandfather and chess tutor John, James Holyhead matched Nigel for the number of games played, but unfortunately for James three of these were against the ruthless Phil, and Alex Brims came up with some highly innovative pawn formations, including a square and a snaking ladder. All the results and games here.
Finally, if you fancy some New Year chess reading, look no further than Rob Nield's excellent new blog. The opening post of the sagely titled "Chess Suffering" features an entertaining recap of Rob's 2022 chess reading and you can subscribe to be notified of future editions.