4/06/23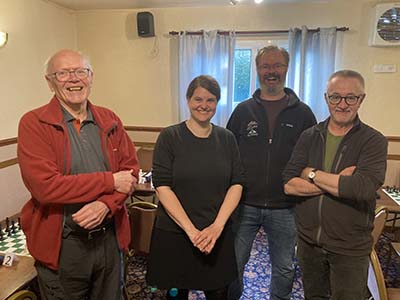 Telepost B, Rapidplay Division 2 champions. Left to right, Graham Shepherd, Kate Walker, James Holyhead, captain Nick Holmes
The draw for the Summer knockout cups has produced the prospect of a crowded night on 12 June, as four of our teams will be involved in round one matches. In the Cox Trophy, Telepost B host Oswestry, while Telepost A have a bye. In the Minor Knockout, there's another club derby as Telepost C play Telepost D, while Telepost E take on Newport B. There are three rounds in each of the competitions. With Nigel Ferrington's simul for Junior members currently scheduled for the same night, it promises to be a logistics headache and a highly competitive evening.
Telepost B were confirmed as Rapidplay Divsion 2 champions and maintained their unbeaten record as the club hosted the final match night. Kate Walker topped the scoring with 11/11, backed by James Holyhead with 8.5/10 and Graham Shepherd with 7/11 on top board. Telepost C took the chance to field a team of Juniors – congratulations go to Rhys Macmillan, who beat Newport's Phil Love, and Rudi Bedford, who drew against the evergreen George Visokai of Maddocks. The game, which ended with Rudi avoiding impending mate by finding a stalemate with one second left on his clock, may well have been the biggest age gap in a competitive Shropshire fixture!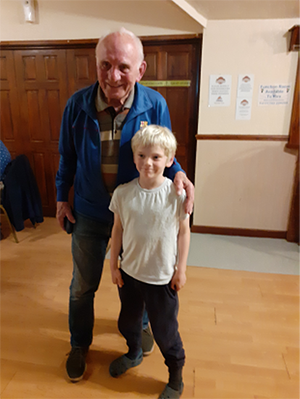 Chess for all ages – George Visokai and Rudi Bedford after their dramatic game

Steve Wilson had an excellent, if turbulent, performance at the recent Cotswold Chess Congress. Drawn against the top seed in round one, Steve lost after 2.5 hours and resigned his second match after two hours. He then produced a run of four wins to end on 4/6 and take a grading prize of £75. Round four was the highlight with a crazy endgame in which Steve queened twice and eventually checkmated his 10-year-old Ukrainian opponent after 70 moves. Meanwhile, Kate Walker scored 1.5 in a very strong field in the prestigious English Womens Championships – a grandmaster and a number of Fide and Candidate masters were among the entrants.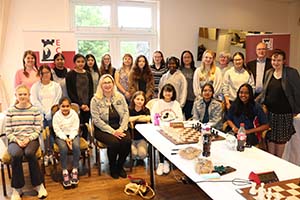 Kate Walker (top left) in talented company at the England Womens Championship
There's further congress opportunity this month with the Shropshire Megafinal on 10 June and the always well-organised Crewe Congress on 30 June. Steve Wilson has also confirmed that the pre-season Telepost Rapidplay will take place on Monday 11 September.
In the Shropshire Individual, Matthew Clark has moved up the leaderboard and now takes on top seed Nathanael Paul, who is unbeaten so far, in round six. In the Minor Individual, James Holyhead has a winner-takes-all decider against Joe Greenwood.