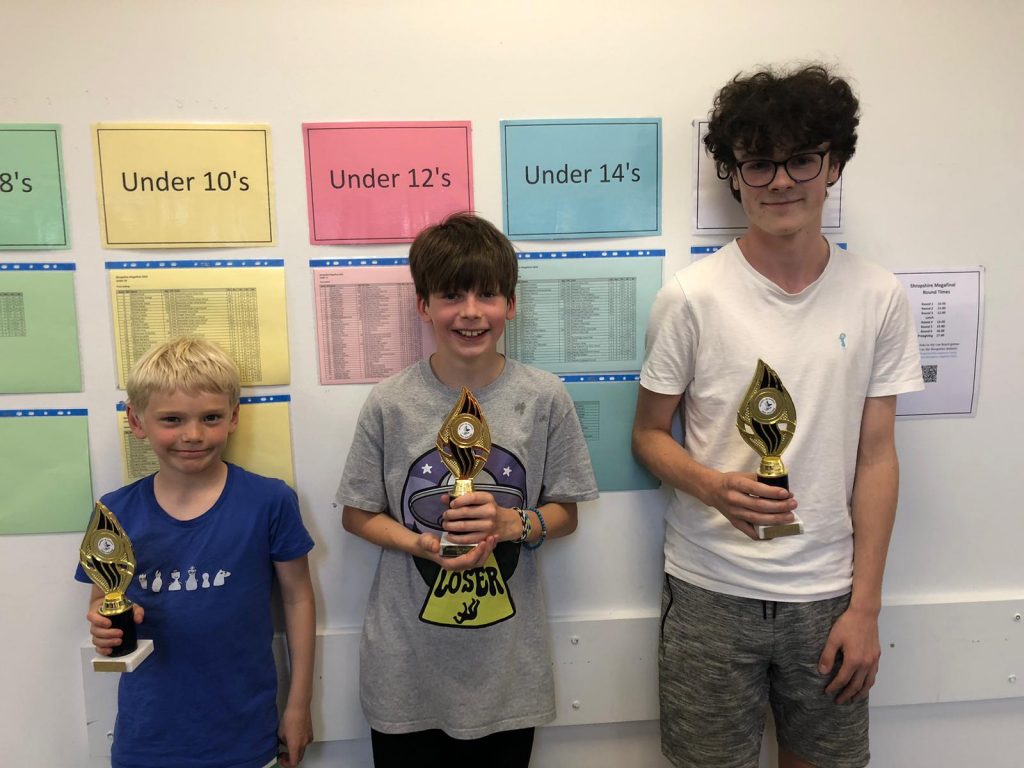 Early summer has seen members old and new shine in recent congress events. A trio of Telepost Juniors grabbed a spectacular hat trick of wins at the recent Shropshire Megafinal. Rudi Bedford was unbeaten with six wins to take the U10 event. Merry Curtis was also unbeaten, with his 5.5/6 giving him joint first in the U12 section and U11 winner. Finally, Archie Flavell continued his stellar summer (see 21/4/23 News, and below), pipping Telford's Ryan Barton on tiebreak to take the U18 section with 4.5/6. The event, held at Charlton School in Wellington, saw a 100% increase in entrants compared to the last Megafinal, meaning the organisers and helpers, including Telepost's Dan Hilditch-Love and Kate Walker, were kept very busy. Telepost mentor Paul Billington attended as a spectator and commented:
It was evident from the start that excellent planning, and a certain level of sensitivity had been employed. For example, many of the parents arriving were greeted and welcomed in a warm friendly manner by helpers who made great effort to make each and every one very relaxed and certain of what to expect. The event started well, on time, and with the massive bonus of being able to gain the expert over-view of a Chess Master, Jonathan Blackburn, and Rudi VanKemenade adding his expert advice. Not only were the parents able to watch live the top boards in each section, the games were streamed live on the internet for everyone to see!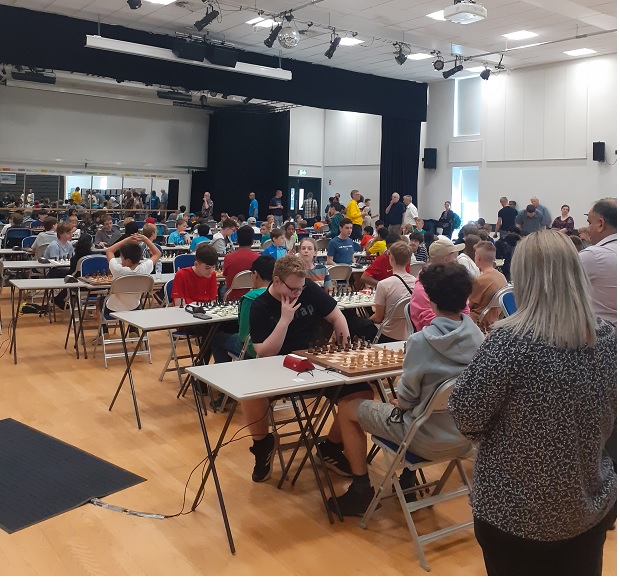 The players were all in great spirits, thoroughly enjoying themselves, and very clearly guided at each stage. The outstanding play soon became easy to spot, by the most talented players playing great chess, but not being too hurried, having just the right amount of time to play a reasonable game. There were some outstanding players who were able to express their talents properly, knowing that they could trust the arbiters to sort out any problems immediately, and with confidence. Our Arbiter Dan Hilditch-Love added to the richness of the event by showing how much his skills have improved after completing a course ran by FIDE on running tournaments which allowed his section to be overseen in the best possible way.
Not to be outdone, in the South Lakes Congress, held in Barrow-in-Furness, James Holyhead's congress strategy of playing a section or more above his own rating had its best outing ever as he scored an unbeaten 4/5 to take a superb joint first place in the Intermediate (U1825) section. Seeded 24th out of 25 players, James took on a succession of higher graded players, remaining unbeaten. In game 3, careful endgame play by James defeated third seed Greg Millar, rated 1804. After 55 Kb5, black blundered with 55 ..g6: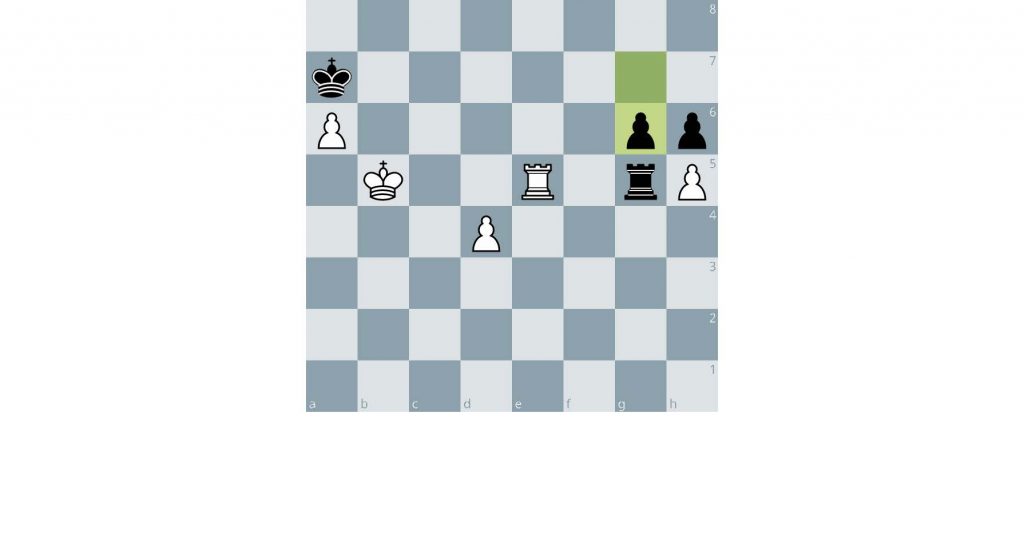 Can you see the winning move by James that forced black's resignation? In the final game, James had to win against Kevin Winter, rated 1754, to have a chance of top prize. You could hardly accuse him of being backward in going forward if you consider this position, reached at move 21:
The pawn storm pressure paid off, leading to this lovely knight fork and rampant queen:
It's common for players returning from weekend congresses to play a bit of a shocker on the following Monday (exhibit A, your correspondent!), but James kept the South Lakes vibes going as he took on Joe Greenwood in the final round of the Shropshire Minor Individual. Once more, only a win would do as James and Joe were both chasing Robert Green, who was one point ahead having played his final match. A long match, broadcast live on the internet, was clinched by James in a tense endgame. He now faces a two-match playoff against Green to decide this year's champion.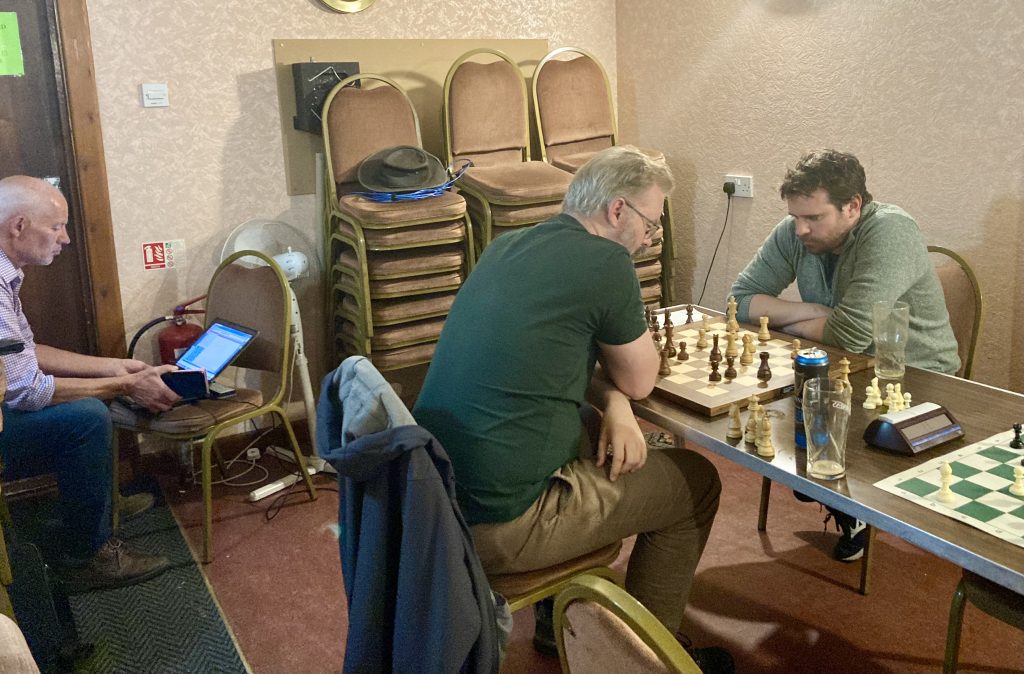 A new Club Champion has been crowned, as top seed Nigel Ferrington beat John Westhead for a perfect 6/6. Nigel led the field throughout the six-round Swiss, taking the title for the sixth time. Consolation for John, though, as he is in prime place to take the U1700 title. The U1400 will be decided when Sam Hollands and Alex Brim meet in their final-round game.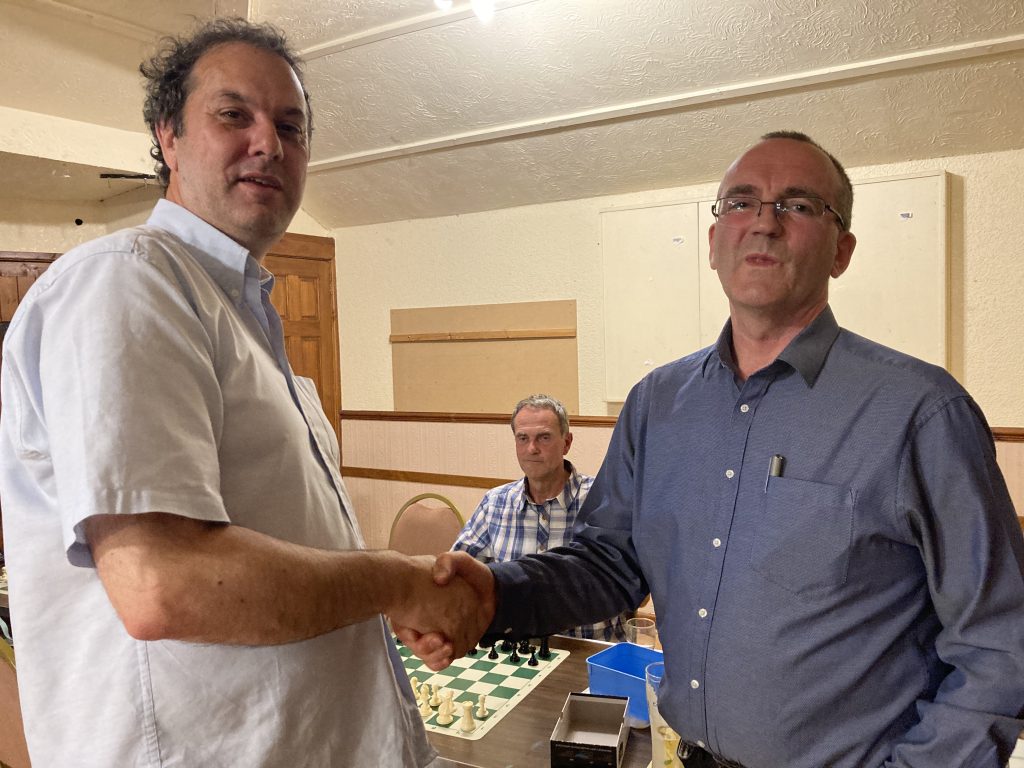 Just to keep Nigel ticking over, the club arranged for him to take on 10 juniors and 3 adults in a simultaneous exhibition held in the clubroom. The juniors took to the format well, showing good concentration through some long games and learning to wait for Nigel to appear at their board before making their next move. A clean sweep for Nigel was prevented by Archie Flavell, with a discovered mate which provoked his reaction, "Well, I didn't expect it to end that well!"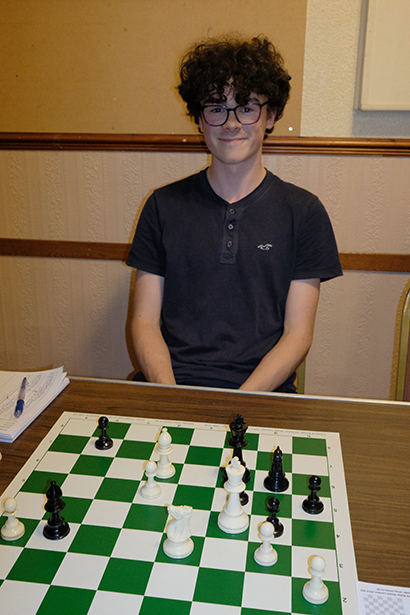 Gutsiest performance of the night, without a doubt, came from Merry Curtis, last to finish amongst the juniors, who twice declined a draw offer from Nigel as he tried to make a forced sequence work. But Nigel isn't a five-time Shropshire Champion without reason, and he found a way through the plan. Respect to Merry for the attacking spirit against such a strong player! Amongst the adults, Fred Bench was frustrated as a winning position crumbled in the face of Nigel's endgame expertise and Cesar Pileggi was last to succumb. Our thanks to Nigel and congratulations to all the participants.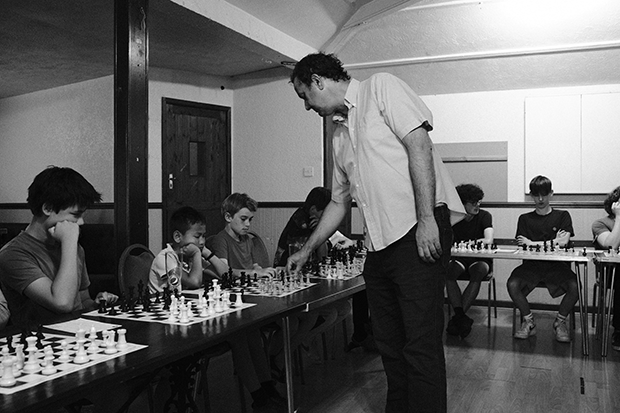 Three of our teams have reached the semi finals of the summer cups. Monday 26 June will see Telepost A take on Telepost B in the semi of the Cox Trophy, after the heavily outgunned Bs produced a cup upset with a win over Oswestry A. Telepost C travel to Telford B for their semi in the Minor Knockout, after a derby win over Telepost D.