02/03/23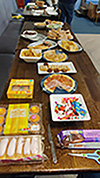 Plenty of cake to be had at Newport
Telepost B have won the Shropshire Rapidplay Division 2 title with three games to spare courtesy of a fine performance by Telepost C in the latest round of matches. The B team were not involved in the latest match night, hosted by Newport and including an impressive spread of refreshments, but their lead in the competition was such that rivals Maddocks C needed a minimum of four points from the night's three games to stay within mathematical touching distance. Maddocks started well with a win over Newport B before drawing against Telford B – opening the door for Telepost C to squash Maddocks' lingering hopes in the final match of the evening. A draw on top board for captain Steve Wilson and wins against higher-rated opponents by Shane Sweeney and Alex Brims were enough to clinch Telepost's first team silverware of the season. Telepost B, with 8 wins and one draw, will now look to ice the cake by remaining unbeaten when the final match night takes place in May.
One of the longest running rivalries in Shropshire chess was resumed as Telepost A hosted Newport A in Division One. The top board clash between Nigel Ferrington and Nick Rutter has often proved decisive in the fixture and this was no exception, with the pair last to finish as the score stood at 2.5-1.5 to Telepost courtesy of draws by Phil Zabrocki, Matthew Clark and David Hodge and a win on bottom board by John Bashall, continuing his excellent season. With less than two minutes left, Ferrington's two rooks prevailed against Rutter's queen to edge the endgame – the 3.5-1.5 win means the A team are two points behind Newport with one game in hand in what looks like a very tight fight for the top two spots. League leaders Maddocks are due to host Telepost B this Thursday.
In Division Two, Telepost D chalked up their first point of the season with a home draw against Maddocks C. The Ds were boosted on the night by two evergreen reserves, Graham Shepherd and Peter Crean, with a win and a draw respectively on the top two boards. Meanwhile Telepost C recovered from their first loss of the season to thump promotion rivals Telford B 4.5-0.5. Trevor Brotherton made his first appearance of the season, taking on Telford's dark horse, Dave Hollands. Though technically ungraded for the season, Hollands is a returning player of a high standard, which he proved by drawing against former County champion Brotherton. But Hollands was to meet his match two nights later when playing for Telford A against visitors Telepost E. New recruit Shane Greenwood marked his league debut for the Es with an excellent win against Hollands, matched by another notable scalp for Cesar Pileggi, whose win against Toby Neal is his best yet in a highly promising debut season. His next assignment? Taking on current club champion Matthew Clark in the standout pairing of the next round of this year's club championship.
Greenwood is one of four new members to recently sign up to the increasingly busy club – a warm welcome to Shane, as well as Kev Vidler, Ric Pugh and Merry Curtis, another addition to our new squad of juniors. This takes current membership to a record 44 – you can catch up with all the new names on the updated members page here.
Pugh, playing in the early morning from New Zealand, contributed a win as Telepost Dark Knights 1 and 2 both won their round 3 fixtures in the 4NCL Online. Both teams now have four points, securely positioned in the top half of the table.
Finally, James Holyhead is sole leader of the Shropshire Minor Individual at the conclusion of round four, having beaten Maddocks' George Viszokai to maintain a 100% record. Round four proved a strong one for Telepost players with wins for Dennis Bonner, John Casewell, Nick Holmes and Cesar Pileggi and a draw for Ben Rose.