26/03/23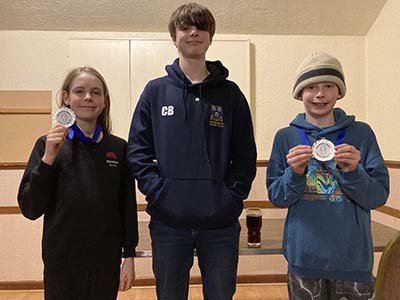 Rhys MacMillan, Charlie Bethune and Merry Curtis with congress medals
Telepost Juniors put up a great performance as the Shropshire Junior Chess Congress made a welcome return after almost a decade. The Congress was open to under 18s from across the country and Telepost's recent influx of Juniors featured in two of the categories. Merry Curtis finished second in the Under 12s with an impressive unbeaten 5/6, while Rhys MacMillan tied for second in the Under 14s with 4.5/6 and Charlie Bethune scored 3/6 in the same section. Merry and Rhys received Congress medals for their efforts and Charlie teamed up with John Casewell's grandson George Eden and Telford's Ryan Barton to win the team puzzle challenge. You can read a full report on the Congress from the Shropshire Star's Toby Neal here, and there are further photos on the Shropshire Chess site here. Congratulations to all our players and to the Shropshire Association members who organised the Congress.
Telepost B overturned the form book in Division One of the Shropshire League with a superb away draw against league leaders Maddocks A. Wins for Dan Hilditch-Love and Fred Bench and a draw for captain Steve Wilson secured the result which opened up an opportunity for Telepost A in the title race by pegging back the previously dominant Maddocks. Sadly, the A team were unable to capitalise as they were beaten at home by Shrewsbury A. Fred Bench won once more and there were draws for Matthew Clark and John Bashall but the match turned on the very rare loss of both our top boards. The B team continued their travels away to Newport A but were unable to repeat their Maddocks exploits, with a heavy 4-1 loss which lifted Newport clear of both Telepost A and Shrewsbury B.
In Division Two, Telepost C need one point from their final two matches to claim second spot and promotion after a 4-1 win away to Maddocks C. Trevor Brotherton made his second appearance of the season and was tested by Maddocks' Mark Billington in the longest game of the evening, eventually prevailing in a subtle endgame where a potential mating net hampered Billington's defence. Telepost D had one of their best performances of the season but still lost narrowly to Newport B. John Casewell beat Malcolm Price in an online game played concurrently with the OTB games and Alex Brims won against the very experienced Andy Jones.
Casewell took his form into the latest round of the 4NCL Online, but was the only winner as Telepost Dark Knights 2 lost 3-1 to a Harrow Juniors team whose ability belied their 4NCL ratings. It was a similar story for TDK1, who lost by the same margin to Wells Globetrotters despite having the edge in ratings. Both our teams remain mid-table in a seesaw season.
Round four of the Club Championships has been extended by a week to allow the remaining games to be played. David Hodge moved to joint top with a win over Steve Kempsell, though joint leaders Nigel Ferrington and Rob Nield have yet to play their game.