Busy busy
1/12/20
With the Shropshire League well under way, Five Counties approaching the endgame, and Dark Knights activity increasing as the nights darken, it's been a busy time across the virtual boards.
The first club derby of the new league season saw Telepost B secure a convincing 2.5-0.5 win over Telepost C in Division 2. There were wins for Paul and Kate on the top two boards, while the battle of the captains, John Westhead and Dennis, ended in a draw. A week later, it was captain v captain again as John C's last-minute win against Martin clinched Telepost D's 2-1 win over Telepost E. The win for the E team came from supersub Peter Crean.
In the Five Counties League, Telepost dropped their first point of the season by drawing against Uxbridge B. We are no longer top of the division but as the season draws to a close the title is still very much in sight – Telepost have two matches left against mid-table teams while the other two teams in the mix have to play each other.
In the Dark Knights chess ladder, Nat Paul has worked his way through the field faster than Lewis Hamilton in the rain, deposing Nick to become the first White Knight. Probably the most notable result in the second round of the Winter Swiss so far is a hard-earned draw against Steve Rooney by Dennis, who was fresh from another session on Radio Shropshire which you can hear below. There's discussion of The Queen's Gambit and why Dennis isn't Bobby Fischer, amongst other things.
Finally, a reminder that this Friday is the deadline for any additions to the AGM agenda. Please also let Nick know your email address by Friday if you wish to attend the meeting on 10 December.
---
Radio Telepost
22/11/20
Telepost members have been hitting the airwaves as the media interest in chess in the wake of The Queen's Gambit continues. Here's Kate Walker talking to Radio Shropshire on Saturday about learning chess, chess psychology, women in chess and The Queen's Gambit:

And here's Dennis last week, again on Radio Shropshire, discussing learning chess, Bobby Fischer, Covid, the growth of online chess and, yes, The Queen's Gambit:
Tune in to Radio Shropshire at 11.15am on Tuesday 24 November for another interview with Dennis and further fillips for Shropshire Chess.
---
New-look A team debut with win
19/11/20
Telepost A captain Matthew Clark had such a successful transfer window ahead of the new season that he couldn't get in his own team for their season-opening Division 1 encounter against Oswestry A this week. New members Nat Paul, Richard Archer and Mark Nightall all featured as Telepost took a 2-1 lead, but it was down to A team stalwart Phil Zabrocki to clinch the 3-1 win in a pawn and minor piece ending that required precise play as a dozen spectators watched on. Next week sees Division 2 kicking off with a derby match between Telepost B and C.
The Dark Knights Winter Swiss competition reached the end of the first round with all matches played by the deadline – a rare feat in individual competitions and a tribute to organiser John C. Full results for the round:
Nick Holmes 0.5 – Matthew Clark 0.5
Kate Walker 0 – Dennis Bonner 1
James Holyhead 0 – Robert Nield 1
John Westhead 1 – Shane Sweeney 0
John Casewell 0 – Keith Tabner 1
Peter Crean 1 – Martin Ayres 0
Mark Randell 0 – Bill Clarke 1
Phil Zabrocki 0.5 – Nat Paul 0.5
Steve Rooney 0.5 – Mark Nightall 0.5
Richard Archer – bye

The draw for round two is now on the Dark Knights site.
Dennis' burgeoning radio career sees a further outing on Radio Shropshire, scheduled for 11.15am on Tuesday 24 November. Listen in for further fillips for Shropshire chess.
The Shropshire Chess Association AGM, which was postponed in favour of special meetings in response to the pandemic, has now been scheduled for Dec 10. Agenda here, and send your email address to Nick if you wish to attend the Zoom meeting. Also contact Nick or Dennis if you wish to raise any further items.
---
Notes from Abroad
13/11/20
Founder member Bill Clarke, from his home in Paris, reflects on rejoining the club and changes in chess here.
Plus new 1980s images in Photo Albums.
---
New season, new members
11/11/20
With the 2020-21 Shropshire League season due to begin next week, Telepost welcome three new members. Mark Nightall, from Oxford, was at school with Matthew and joins him in the A team for the online season. Mark Randell, from Nantwich, met John C recently and will be playing for Telepost E. Nat Paul needs no introduction to existing members! A warm welcome to all three. Details of teams and fixtures for the new season are here.
Nat got stuck in straight away, playing a Dark Knights ladder fixture against Keith on Monday. Keith's stalwart defence in a rook and pawn ending was eventually ended by the clock. At the same time, in another match that went the full distance, Kate secured a notable win over Matthew, also in the chess ladder, in an evening that saw three matches taking place with spectators on each board – an illustration that club nights are possible in the virtual world. The Winter 20 Individual Tournament now has 16 competitors and the ladder 14. Details of how to sign up are here.
Spectating on Monday was made easier by a new initiative from Kate Walker, who has devised a Google calendar of online matches taking place in Shropshire. To view the calendar without a Google account go here. If you have a Google account you can link the calendar to your own account – go here. Contact Kate with details of any upcoming matches and she will add them, giving your match the sensation of those tense nights at the club, from the comfort of your armchair.
Spoiler alert, but if you've seen the later stages of The Queen's Gambit, you'll have noticed the man from the BBC commentating from Moscow on Beth's showdown with Borgov. Chess and radio aren't obvious bedfellows but club secretary Dennis continued the relationship this week with an appearance on BBC Radio Shropshire discussing chess in lockdown. It's available on BBC Sounds for the next four weeks – it starts at 3:16:11 on the Jim Hawkins show.
Telepost's push for promotion from division two of the Five Counties League was greatly helped by a 6-0 whitewash of Uxbridge Juniors A. Next up are fellow promotion contenders Uxbridge B, on 24 November.
---
Welcome back Bill
31/10/20
Telepost are delighted to welcome back founder member Bill Clarke, who has joined Telepost Dark Knights from his home in Paris. You can read about Bill's connection to the club here.
Bill is taking part in two new Dark Knights competitions which are now under way. The Winter 20 Individual Tournament is a six-round Swiss with 14 players. Early results from round one include a win for Keith against tournament organiser John C, and a draw between Nick and Matthew. The Chess Ladder has 14 entrants vying to be crowned White Knight by challenging players above them in the ladder.
We also welcome Robert Nield, who has joined from the slightly nearer south Shropshire and will be playing for us in the Shropshire League, due to commence in mid-November. We have four teams entered. In the Five Counties Online League, Telepost remain top of Division 2 after a 4.5-1.5 win against St Albans. It's tight at the top, however, with three teams tied on 8 points.
---
Great turnout for pre-season friendly
16/10/20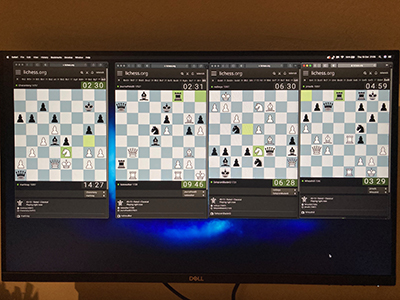 Chess in the time of covid – the final stages of the friendly with scores level
Telepost Dark Knights debuted in a pre-season friendly against Shrewsbury Light Squares, held on Lichess on 15 October. There was a great turnout of 11 players for each side, with grades ranging from 165 to 74 (in old money!), and a number of players on each team playing their first long-format online match.
Telepost, outgraded on all boards, took an early lead with wins for Matthew, James and Shane but Shrewsbury pulled level to leave four matches in progress with about 20 minutes of play left. Each of these had a dramatic finish with fortunes flipping right to the end, and Shrewsbury emerging 6.5/4.5 winners overall. A feather in the cap to Kate, though, with an intricate checkmate against Peter Kitchen.
Earlier in the week, Telepost continued their fine form in the Five Counties Online League with a 5-1 win against Maidenhead B, regaining their position at the top of Division 2.
Finally, watch out for details coming soon of the next Dark Knights event, our winter Swiss competition. Contact John Casewell for any late entries.
---
New season news
7/10/20
Considering the physical club remains closed, there's quite a lot going on:
The Special General Meeting of Shropshire Chess Association agreed that the new season will be played online. Format will be 45/15, played on lichess, with teams of four players in division one and three in divisions two and three. We hope to field three teams – please let Dennis know if you're available. Rules for online play are here.
The Special General Meeting also saw Matthew Clark elected President of the association, with Nick Holmes filling in behind Matthew as General Secretary. Keith Tabner stood down after a remarkable 17 years as joint creator and editor of the county website and we thank him for all his work. Nick is also taking over the editor role and Vinnie continues as the technical maestro.
Following a suggestion from John Casewell, we have established a club team on lichess, Telepost Dark Knights. The idea is to have club competitions and socials using the platform that is to be used for the Shropshire League. Our first match is a revival of the pre-season friendly against Shrewsbury, to be played on Thursday 15th October, 1930 on lichess, following the new league format of 45/15. A great chance to try out online play if you've not done so before. Let Nick know if you'd like to play.
Telepost had a second win in the Five Counties Online League, with a 4.5/1.5 score against Staines. After a bye in the last round of fixtures, we take on Maidenhead B on 13th October, looking to maintain the winning streak.
It was nearly but not quite for a trio of Telepost players attempting to retain the Shropshire Minor Individual trophy that was won by John Westhead last season. Respectable mid-table about sums up the end results. Both the Minor and the Shropshire Individual will be taking place online this season.
And finally, in a piece of rare and welcome real world action, the photo shows Nigel receiving the trophy for winning the Colin Roberts Memorial brilliancy prize.
---
Telepost debut in top spot of Five Counties
2/9/20
Telepost have entered a team in the Five Counties Online League for the first time and came away from their first match with a 5.5/0.5 win, putting them top of Division 2. Teams of six players play 45/15 format on the Lichess server, in a league of nine teams. Our first opponents were Watford Juniors A, many of whom we had met before in the recent National Online Club Championships. There were early checkmate wins for Nick and Kate, then Dennis trapped his opponent's rooks with a decisive double bishop attack before invading the back rank. Phil had a tightly fought game before forcing his opponent into an endgame zugzwang that resulted in double queening for Phil. James had a prolonged tactical battle between rooks and minor pieces in which neither player could afford to relinquish their position, leading to a draw, while captain Matthew was last to finish after his opponent put up a prolonged defence to a mate threat followed by four advancing pawns. We have a squad of 9 players and match details can be found in the Diary and here.
A second Shropshire Chess Association Special Meeting has been announced, to be held on Zoom at 1930 on Wednesday 23 September.
---
John safely home as Keith and Dennis call it a draw
24/8/20
Best wishes from everyone at the club to John Casewell, who has now returned home after his recent operation. We look forward to his return to online play. Some four months after it began, the Telepost online daily tournament has ended with Keith Tabner and Dennis Bonner as joint winners. After winning their respective round-robin groups, the pair played each other in two daily matches, and when both of these were drawn they agreed to share the title. Congratulations to both on a marathon performance. Meanwhile, this week sees the start of 4NCL Online Season 2, with five Telepost players involved in the first round matches.
---
James holds topsy turvy showdown to clinch 45/15
4/8/20
Congratulations to James Holyhead who won the inaugural Telepost 45/15 online tournament after drawing against Matthew Clark in a dramatic final round match. Matthew, needing a win to take the tournament, went a piece up through tactical exchanges in the middle game and looked set to capitalise as further pieces were exchanged. But James, remaining proactive as he has throughout the tournament. managed to advance a pair of central pawns, forcing Matthew's king into a defensive role under time pressure and an eventual threat of forced repetition. James finished on 6/7, Matthew 5.5. Elsewhere, the tournament resolved to a semblance of expected grade order, with Keith finishing third on 4.5 and John Westhead fourth on 4.
Congratulations also to the Shropshire team in the ECF Online Counties Championship who have qualified from Division 2 of the Open competition to advance to the semi finals of the Open Challengers. Their exact position in the table is to be determined however, as an adjudication is pending on two boards of last Saturday's match against Hampshire.
---
45/15 goes to the wire
29/7/20
As the Telepost Online 45/15 tournament heads for its final round, James Holyhead is on the brink of "doing a Carlsen" and winning the tournament he organised. James is on a superb score of 5.5/6, having seen off a succession of higher graded players with some very attacking chess. However, Matthew Clark, top graded player in the tournament, is hot on his heels with 5/6 and the pair meet next Monday 3/8 in a final round showdown. Keith Tabner is in third, but needs a result on Monday to avoid being caught by John Westhead, while the rest of the field are neck and neck for the minor places. Final round begins at 18.30 on Chess.com.
---
Season-ending EGM sees C confirmed as champions and D promoted
16/7/20
Telepost C have been confirmed as champions of Shropshire League Two, and Telepost D are promoted from Division Three to Division Two, following an Extraordinary General Meeting held this week online in which there was unanimous support for Matthew Clark's proposal that the season be concluded and positions determined on a match points per game basis. Telepost A finished third in Division One and Telepost B were narrowly beaten to the second promotion spot in Division Two by Wellington. With Telepost E in Division Three, the club will have a spread of teams across the divisions for next season. In Rapidplay, Telepost A finish second in Division One and Telepost B avoid the wooden spoon in Division Two. Capping off a very successful season for the club, Nigel Ferrington's match against Adrian Zdanowski was awarded the inaugural brilliancy prize, the Colin Roberts Memorial Trophy. Congratulations to all the players involved. The EGM, held via Zoom, was well attended (with more attendees than some "Over The Table" chess association meetings!) and also discussed the likelihood of Over The Board chess returning soon and possible formats for online competitions. Further news to follow on both of these matters in the coming weeks.
---
Nunn but the best for Phil
28/6/20
Click on this game and you'll see Telepost's Phil Zabrocki playing against "Doccy1" in the final round of the inaugural National Online Club Championships. Discover that Doccy1 is none other than legendary grandmaster and author, and former world number nine, John Nunn, and you'll realise that Phil had quite a job on his hands! And this was in the Minor section of the competition, such was the volume and calibre of entries. Telepost, ably captained by Matthew, and the only Shropshire club represented, finished 7th in a field of 16 in the five-round Swiss tournament, with all seven squad members achieving a 50% or better score. Star performers were Kate with 4.5 out of 5 and James with 2.5 out of 3. The opposition ranged from teams of juniors to, well, former grandmasters! The event, played over three days on the lichess platform, attracted 34 teams and 310 players and was enjoyed by all the Telepost players. All the details and results are here.
Earlier in the week, the first round of the Telepost 45/15 tournament saw the apple cart well and truly upended as lower graded players won or drew on all boards, suggesting that the seven-round all-play-all competition is going to be an open affair. Lastly, four Telepost players took part in Shropshire's 7.5-4.5 win against Worcestershire in the ECF Online County Championships, and, with draws for Phil, Matthew and James and a win for Nick, came away unbeaten.
---
Online chess gathers pace, 2019-2020 season to be resolved
19/6/20
Telepost club and individual members are involved in further online competitions as the shutdown of OTB chess continues. Shropshire have entered a team in the Open section of the ECF Online Counties Championship. The team is captained by Matthew Clark, with Dennis acting as non-playing captain on match nights, and a number of our players are in the squad. All seemed well on the technical side during a preliminary round match against Oxfordshire, but the first round proper, against Hampshire on Saturday 13 June, was beset by problems caused by chess.com rebooting its servers just as games were due to start. The round was eventually abandoned, to be replayed at a later date, and both the ECF and chess.com have apologised to players and learnt some lessons for the future. The next match for Shropshire is against Worcestershire on Saturday June 20.
Meanwhile, congratulations to Keith Tabner on winning his group in the inaugural Telepost online championship with a spectacular score of 11 wins, no losses and one draw! His opponent in the final is Dennis, who won the other group with an equally impressive 7 wins out of 8 matches. That tournament was played as a "daily" format, with players having up to three days to make each move. Next week sees the first round of a new tournament to be played in a 45 mins/15 second increment format on chess.com. Details are here and any late entrants should contact James Holyhead by Saturday 20 June. A busy week in the virtual world continues on Friday 26 June, when Telepost have entered a team in the National Online Club Championships. This is an online rebirth of the National Club Championship in which Telepost excelled in 2018. Also using a 45/15 format, but played on lichess, the championship has five matches over one weekend, much like a traditional weekend congress. We have a squad of seven players for a six-player team captained by Matthew. Details and results during the competition can be found here.
Finally, a Special General Meeting of Shropshire Chess Association has been arranged for Wednesday 15 July, in order to decide how to resolve the current season. Matthew has proposed that league placings be decided on a points per game basis. The meeting is on Zoom at 1930, and anyone wishing to attend should send their name and email address to Matthew Clark at mdhc@shrewsbury.org.uk, who will send the Zoom invitation. Also contact Matthew if you wish to raise any other issues.
---
County and 4NCL online chess opportunities
30/3/20
Following on from the Telepost remote club described below, there are now further opportunities for remote chess in the county, including an online social evening and participation in a 4NCL online league. Full details can be found here on the Shropshire Chess website.
---
Remote Telepost up and running
23/3/20
Although all the county chess activities are suspended and the bricks and mortar (well, to be fair, not many bricks in the case of our clubhouse!) Telepost Chess Club is currently closed, Remote Telepost is up and running. Using the chess.com platform, we are running a club competition which currently has 11 players. Divided into two groups, the competition is organised as all play all, with each player playing the others in their group as both white and black. Group winners will play a finale. Players have three days to make each move, but in practice most matches so far are seeing a number of moves played each day. Many thanks to James Holyhead for sorting out the techie details and running the tournament. If any other members are interested in joining in, please contact Dennis on chess29@live.co.uk or James on jholyhead@gmail.com. The chess.com site is free to join and use.
---
Important Announcement – Shropshire Chess Fixtures Suspension and Telepost Chess Club activities suspension
15/3/20
All fixtures in the Shropshire Chess League from Monday 16th March 2020 will be deferred. Details here In light of this, and the current coronavirus situation, activities at our chess club are also suspended. Please see the message below from our club secretary, Dennis:
Hi everybody. We are all aware of the rapid spread of Coronavirus in the UK and the steps the Government have already taken to combat this disease. We also hear this morning of the new measures that will be brought in later in the week and new laws to support the Government action. Nobody knows how many months this virus will be affecting our population but I believe we must also protect all our members from contracting the coronavirus. Please see the message from Francis Best, the Chairman of the Shropshire Chess League, which was issued today. We have therefore decided, with the support of all of our Telepost captains, to suspend all activities at our chess club from tomorrow, 7am, Monday 16th March. In our generation we certainly haven't seen or experienced any virus as bad as this and I certainly hope that in the near future we will be able to start our beloved game at our club again. I will keep you informed of any communications from the League. Best Regards Dennis.
We will also aim to keep this page updated with developments.
---
Telepost make waves at Blackpool
16/3/20
Telepost players came close to top honours in three different sections of the Blackpool Chess Congress, held from 13th to 15th March. In the Major section, for players under 181, Phil Zabrocki continued his excellent record in this tournament with an unbeaten 4/5 and joint second place. In the Minor, for players under 135, Kate Walker was joint top seed and led the field throughout Friday and Saturday with three wins before a couple of losses on Sunday left her on 3/5. In the Standard, for players under 115, James Holyhead had an excellent weekend, finishing in joint fourth place, unbeaten on 4/5 with all of his opponents higher graded. He was hotly pursued by Paul Billington, who finished on 3.5 with three wins and a draw, while Steve Wilson included a draw against one of the joint top seeds in his score of 2.5. As the players completed their Sunday matches news came through of the league suspension detailed above – congratulations to all on such a strong showing in what may turn out to be one of the last congresses for a while.
---
Floods mark imminent rise
29/2/20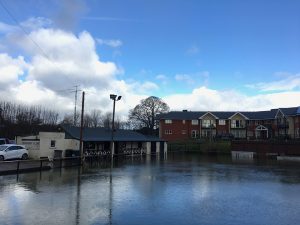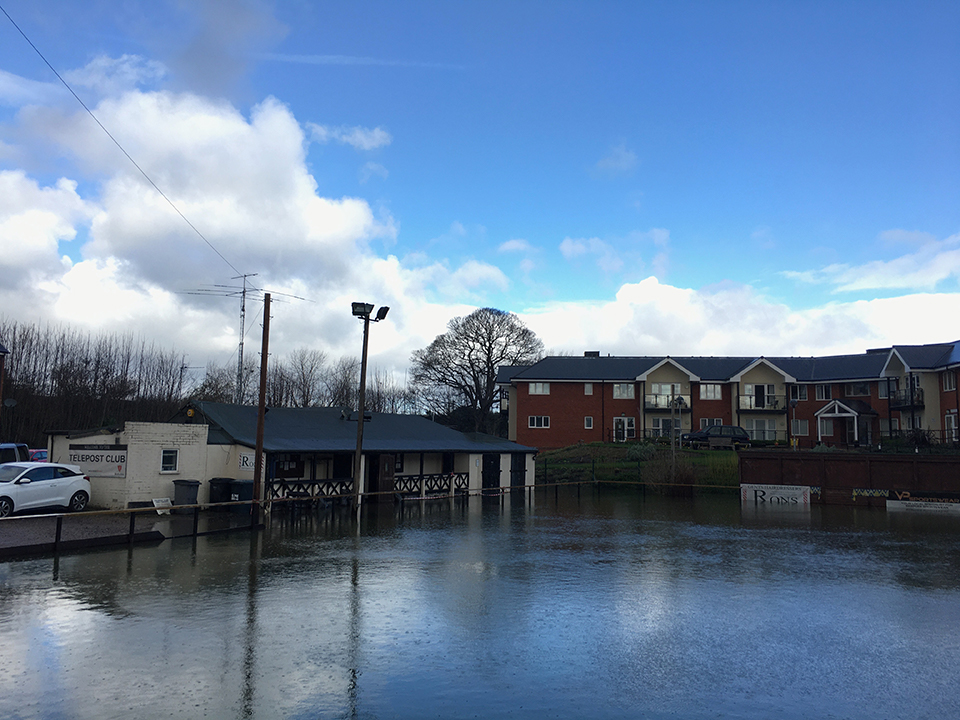 A busy week for Telepost saw promotion guaranteed for at least one of our teams as flood waters lapped at the door of the clubhouse. The week began with a resounding 4-1 win for the A team which moved them into third position in Division 1. A number of Club Championship and Minor Individual matches were played at the clubhouse on the same night, as water levels continued to rise and club manager Val was issued with a Floodwatch warning by the powers that be. Meanwhile, John C chalked up a literal home win in the Minor Individual when his opponent agreed to relocate to John's house.
On Thursday, the D team travelled to Oswestry for a match that included a shootout between the two fastest guns in Shropshire chess, our own Shane and Oswestry's Dimitar Kirachen. Oswestry took the blitz battle and the win, but with two games in hand the D team are still in touch with the top of the table and in the hunt for promotion. The following night, promotion was confirmed for at least one of our Division 2 teams when the B team sneaked a tight encounter with Shrewsbury A. An early draw for Paul Officer against Daniel Lockett was followed by Kate and Nick extricating a win and a draw respectively from two seemingly losing positions. After Tony Purser, a late substitute for Shrewsbury, constructed a fine mating net against John W, the match came down to the top board encounter between Shrewsbury's David Everington and the multitasking Trevor Brotherton, fresh from a win for the A team earlier in the week. With both players extremely short on time, Trevor finally broke the deadlock with a rook manoeuvre that attacked David's position from the rear and forced the loss of the exchange. The resulting 3-2 win means Shrewsbury can no longer catch either of our teams, who must now fight it out with Wellington A for the title and the promotion spots. Wellington's remaining fixtures are against the two Telepost teams.
Finally, as a precaution against further flood disruption, Telepost E v Oswestry B has been moved back a week to March 9. Details on the Diary page.
---
E team takes it to Telford
6/2/20
Congratulations to Telepost E, who chalked up their first win of the season with an excellent win away to Telford B in Division 3. Heavily outgraded on all four boards, wins for James Holyhead and John Casewell, and a draw for Martin Ayres, secured the victory. And on Monday this week, Telepost D drew against a strong Newport C side to move to only two points behind Division 3 leaders Maddocks C, with two games in hand. The match included a notable win for Paul Billington against the highly experienced Chris Paul. It's looking like a very tight finish in the division, and the D team's next opponents are promotion rivals Oswestry B.
---
Excellent turnout at Shropshire Congress
8/1/20
In one of the club's strongest showings in recent years, 11 Telepost players featured in this year's Shropshire Congress, held at the Wrekin Housing Trust in Telford from 3rd to 5th January 2020. Results of particular note included Phil and Matthew both scoring 3.5 in the Major (U170), only half a point behind the winners; Paul Billington, in his first season since returning to the club, scoring an excellent 3 points and a tournament grade of 139 in the Intermediate (U135); and James Holyhead, in his debut season, 3.5 in the Minor (U100).
---
Congratulations to Kate Walker
6/1/20
Congratulations to Kate Walker on becoming the Womens Grand Prix Champion 2018/19 for grading between 120 and 139. In achieving this Kate won the Warwickshire under 140 congress with 4/5, the North Wales Minor Congress with 4.5/5 and came second in the Midlands Congress with 4/5.
This must surely be a first for Shropshire.