Festivities dampened by pandemic pause
20/12/21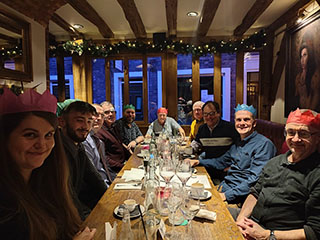 Sadly the reboot of over-the-board activity has paused with the current Omicron Covid situation leading to a suspension of the Shropshire League. SCA President Matthew Clark had received requests for an urgent debate on the matter from a couple of club secretaries, including Telepost's Dennis Bonner, and a Zoom meeting of the SCA Council was convened on 19 December. Those present voted 8-1 for an immediate suspension of OTB activities, with the situation to be reviewed in early January. The physical club is therefore closed for now. The online league and the Shropshire Minor Individual, which is being held online this year, will continue.
As it turned out, the last over-the-board event was actually over-the-table in the form of the club Christmas Dinner. Held at Henry Tudor House in Shrewsbury, the gathering/party/working meeting was attended by 12 members and, with a high quality of both food and service, the event was enjoyed by all. Thanks go to Dennis for all the organisation. When our next physical event will be is unclear, but Dennis will be in touch with members when more is known.
On the board, the difficult start to the season continued. The A team came close against Shrewsbury A, but the unavailability of some regular players meant the team included three reserves. Although one of these, Fred Bench, secured a win on board five, and Nigel Ferrington showed he had lost none of his endgame mastery during lockdown in his win on board one against Peter Kitchen, the 3-2 loss meant an unfamiliar bottom-of-the-table position for the team. The next round of division two matches for our teams were due this week so are both postponed.
There was, however, better news online with our first win this season in the Five Counties Online League – a 3.5-1.5 win against Uxbridge C – and a win for Telepost C against Shrewsbury C in Shropshire Online Division Two. A couple of matches that should have taken place remain to be played but it is likely that the online action will pick up pace while OTB is suspended. The issue of whether previously unregistered players would be allowed to now join the online teams was briefly discussed at the Zoom meeting – anyone with views or proposals regarding this is asked to put them to Matthew Clark ahead of a probable further Zoom meeting.
In the Club Championships, David Hodge and Steve Kempsell had a very entertaining encounter which ended in a draw after a highly complex endgame that took both players into time trouble. Rob Nield moved to the top of the online table with a win over Martin Ayres. The second of Nat Paul's ineractive talks joined the list of events to be rescheduled as it had to be postponed because of illness.
Lastly, very best wishes for the festive season to all at the club and their families and we look forward to reconvening as soon as possible.
---
D deal B a blow in Blue Badge debut
1/12/21
History was made in the Shropshire League this week as Telepost B took on Telepost D in a "hybrid" match. This year's Shropshire AGM passed a motion that allowed for Blue Badge holders to play their matches in the regular season online, as long as the opposing captain agreed and could field a suitable opponent. The club derby this week was the first time the rule had been enacted in a match, with four OTB games at the club augmented by an online match between Rob Nield and John Casewell.
The original intention was for the online game to be played simultaneously and monitored live alongside the OTB games, but in the end, due to family circumstances, and with the league controller's consent, the online match was played the following evening. As it turned out, the online game was crucial to the outcome as on Monday evening the OTB D team players chalked up some notable results – D team captain Steve Wilson's win over Steve Kempsell, following an early gain of a minor piece, Fred Bench's dismantling of Kate Walker's Caro-Kann, and another full-distance, resourceful draw on top board by Vinnie Crean against B team captain David Hodge left the D team with a 2.5-1.5 advantage.
Rob and John are both very experienced online players, but they had the novelty of using a much longer OTB time control for their game. A Semi-Slav opening led to a complex knights, rooks and queens standoff, with John defending accurately with counter threats as Rob pinned down his king in the corner. But some forced exchanges initiated by a queen check by Rob allowed him to dominate the seventh rank with his rook and eventually force the win after 60 moves. 2.5-2.5 the final match result, with the point enough to nudge the B team to the top of the table.
Newport B have withdrawn from Division Two before playing a match, which will presumably give them more firepower for Newport C in Division Three, who were Telepost E's opponents this week. Congratulations to Ben Rose who secured his first league win in the match. Captain Martin Ayres came up against a new Newport player, Joseph Greenwood, whose Benko gambit left Martin unable to castle. Unfortunately Newport's top board was taken ill during the match. Fred Bench was on that board for Telepost but when the captains realised that Fred was not eligible since he is nominated to Telepost D, they agreed to call the board a draw, with Newport taking the fixture 2.5-1.5.
In Division One, Telepost A's away trip to Oswestry fell foul of Covid. Some of the Oswestry players had been involved in an OTB 4NCL fixture in Leamington Spa the previous weekend following which there had been two positive Covid tests, including one member of the Shropshire squad. Sensible caution prevailed and the match has been rescheduled. In light of this episode, and the recent strengthening of government regulations and guidance, a reminder of the club and league covid measures – double vaccination is strongly recommended, please take a lateral flow test within 24 hours before attending the club or a league match, and masks must be worn for matches unless both players agree not to. In practice so far, with tables well spaced out and players both vaccinated and taking the LFTs, most games are being played without masks.
The draws have been made for the third round of the OTB and online legs of the club championship. Two reminders of upcoming events – Monday 6 December sees the second of Nat Paul's interactive chess talks, and Wednesday 15 December is the Christmas Dinner at Henry Tudor House.
---
Vinnie shines and a trio of debuts
23/11/21
It's been a tough return to OTB action for most of Telepost's teams. Following on from the A team's defeat in their first match, the D team began their Division Two campaign against a very strong Maddocks B and salvaged just one draw from the encounter – but that draw was of note, an excellent result for Vinnie Crean on top board against current Shropshire Individual Champion Simon Maydew. Next up were Telepost E in Division Three. Their 4-0 loss to a highly experienced Telford B needs to be seen in context, with Telepost's Oliver Elphick, Alex Brims and Ben Rose all making their competitive OTB debuts. Congratulations to all three on the start of their league careers.
The first of a number of Division Two Telepost derbies saw Telepost B record a 4-1 win over Telepost C. Both teams had to call on reserves and the C team's win came from D team captain Steve Wilson playing against E team captain Martin Ayres, representing the B team. Complicated stuff! David Hodge marked his first match as B team captain with a hard fought win over Peter Crean, another welcome reserve for the C team.
Online competition brought little respite from the harsh scorelines. In the Five Counties, Telepost's blushes were saved in a 4-1 defeat against Malpas by John Casewell's fine win against Peter Fisher. The following evening, Telepost A kicked off the Shropshire Online League with a match against Oswestry B, that featured IM Paul Littlewood on top board for Oswestry. Rob Nield drew impressively against Charlie Higgie and Nick Holmes won against Adrian Bailey, but it was a narrow 2.5-1.5 defeat.
A space has been found in the bulging match calendar to schedule another of Nat Paul's interactive talks. Beginning at 7.15 on December 6, the talk will focus on endgames, followed by a Q and A.
---
A touch of normality
2/11/21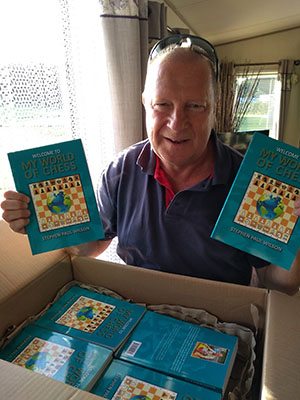 19 months after the pandemic forced the Shropshire League online, the touching of real pieces in league action finally returned to the club on 25 October as Telepost A hosted likely tital rivals Newport A in the opening fixture of the new season. Nigel Ferrington and Phil Zabrocki's wins on the top two boards were not enough, however, as Newport took the remaining boards with a team that included two juniors.
The next two weeks will see the rest of our teams begin their campaigns. With three teams in division two, we may well be fighting ourselves to survive amongst some very strong looking opposition. The withdrawal of Church Stretton has left division three with only four teams but the league controller is looking at options to increase the number of times the teams play each other.
Over the board congress life is gradually returning and Nat Paul had an excellent tournament in the prestigious Scarborough Open. His placing joint fourth with a score of 4/5 is all the more impressive when you consider that those above him were a GM, two IMs and two FMs. Virtual congresses are continuing and Nick Holmes hit a rare vein of consistency to win the U1700 section of the 11th 4NCL Online Congress, with a full house of 5/5.
In the second round of the Five Counties Online League, Telepost suffered a heavy 4.5-0.5 defeat at the hands of Staines and Runnymede. Next up are an imposing looking Sheffield University Graduates team.
Finally, the pic shows Steve Wilson receiving the first batch of his new book, Welcome To My World Of Chess, from the publishers. It's available direct from Steve at the club or via Amazon.
---
Protocols and presentations
8/10/21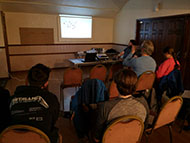 A start date for the new league season moved closer this week as a Shropshire Chess Association EGM agreed a set of Covid protocols to be used for league matches. The EGM, held via Zoom and with 18 attendees, essentially agreed the proposals set out prior to the meeting, with a few minor amendments and additions. Aside from simple precautions such as spacing of tables, use of sanitiser and a recommendation for players to take a lateral flow test prior to a match, the main point of debate was the use of masks. The protocol passed states that masks should be worn unless both players agree not to. Minutes are available on the Shropshire website. With these issues decided, the league controller is now finalising the season's fixtures. Meanwhile, a ventilation system is now available for the main club room, to be tested for the first time next week.
Monday night saw the first of a planned series of training sessions at the club (see pic). The well-attended presentation by Nat Paul was an entertaining and interactive survey of significant games from across his chess career, drawing out tips on how to improve. Games were illustrated on Lichess via a large screen, making it easy for the audience to follow the moves. Future sessions will focus in more detail on individual topics. Contact Nat if there's something you would particularly like covered.
Telepost returned to competitive action on Thursday, with the first round of the Five Counties Online League. Captained by John Westhead, Telepost have been placed in Division One and faced a team of vey much up-and-coming youngsters, Jonathan Hawkins Juniors. The juniors came away 3.5-1.5 winners in a match that saw the club debut of Fred Bench on board two. James Holyhead took the only win, with John Casewell securing a draw. Matches continue at a two-week interval until February.
---
Record pre-season turnout
23/9/21
This Monday's club session saw record numbers for a non-match night, with 18 players enjoying an evening of social chess as we await the start of the new league season. One new face on Monday arrived via a new Wednesday night social chess club – Quids-In Chess Club – held at the Nerdy Coffee Co. There has been a good Telepost contingent at Nerdy – details here, or speak to Kate, who is doing great work encouraging new players.
Preparations for the new season continue behind the scenes. While the teams/divisions are nearly finalised, a special Zoom meeting was held on Wednesday to discuss what Covid arrangements should be in place for the league. A survey of what is currently happening in clubs revealed a range of different approaches, with Telepost heading the cautious end of the scale. The meeting, ably chaired by SCA President Matthew Clark, agreed that the Assoication should recommend the use of gels and encourage chess players to take lateral flow tests up to 24 hours prior to a match. Unsurprisingly, there was lots of discussion and divided opinion on the tricky subject of mask wearing – whether they should be worn at all, and whether, if so, the SCA should recommend or require their use. It was decided to draft a proposal, to be put to a vote of members at an EGM.
Back on the virtual board, Shrewsbury have taken the honours in the Shrewsbury Town Championship this year. With a number of final round matches still to be played, Jim Wilkinson has secured the title with a remarkable 100% score. Nat Paul is currently in joint second but could be overhauled by Shrewsbury's Dan Lockett – current table and results here.
Entries are now being taken for the Telepost Club Championships, which this year will be in dual format – online and over the board. Both formats will be of six rounds, one round a month starting in October, with Swiss pairing. There will be a champion of champions match between the online and OTB winners – assuming they're not the same person! The Club Championships has always been a good opportunity for new players to experience match play and for members to take on players from across the ratings. Members are welcome to enter either or both formats. Contact Paul Billington to enter over the board, and John Casewell to enter online. Entries close 26 September.
---
Nat unbeaten in high quality simul
7/9/21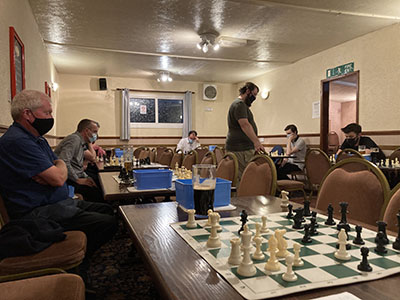 2020 County Champion and lynchpin of Telepost A's 2020-21 double-winning team Nathanael Paul took on allcomers in a simultaneous at the club on Monday night, winning all matches against 10 opponents.
Matches were of a high standard, with Nat's first win not coming until after the mid-game break, and the majority of games going beyond 40 moves. New members Ben, Oliver and Fred all acquitted themselves very well, with Nat's endgame experience and skill proving decisive. Last to fall was Matthew Clark, digging in for the honour of being last to be beaten despite the attentions of chief kibbitzer Phil Zabrocki! Congratulations to Nat on a terrific display. (More pics of the event here.)
The event was the first evening of the formalised covid arrangements at the club – masks were worn, boards spread out, there is plenty of sanitiser available and members are asked to complete a form on entry giving brief details of vaccination status and the results of a lateral flow test which everyone is asked to take within 24 hours prior to attending. The measures, which follow current ECF guidelines, didn't prove too onerous on the night and everyone enjoyed a sociable evening. Small measures that might help to keep us playing OTB through the coming season.
The club AGM, which was very well attended, agreed to allow a bit more flexibility to team captains in selecting and nominating players. (Minutes are available here.) A draft of our teams for the coming season, for both OTB and online, has now been produced after a lot of hard work by club secretary Dennis – we await the final details of which teams are in which divisions.
Meanwhile, the new 4NCL Online season has begun and Telepost has a number of players in the squad of 7 teams, which is being captained by Matt Clark and goes under the moniker of Shropshire and Friends, after a merger with Oswestry/Malpas and Friends.
The Shrewsbury Town Championships has reached the final round with Shrewsbury players dominating the top of the table. However, Nat Paul could still tie with the unbeaten frontrunner Jim Wilkinson if Jim slips up in his final round, and Fred Bench and tournament organiser Paul Billington are in the mix for a podium finish.
---
Dramatic cup replay closes season
4/08/21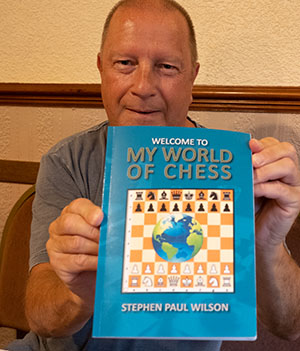 Newport A prevented a Telepost A Treble by taking the Cox Trophy final replay in a match that went down to the last seconds of the last game. The encounter started with a score of 0.5-0.5 from board 4 – the only result that survived the aborted first run of the final which was interrupted by a Lichess server crash. After Phil Zabrocki drew on board 2, the tie break rules meant that the only result of significance for board 3 would be a Telepost loss – Rich Archer realised this and offered and secured a draw. This left the title hanging on the top board game between Nat Paul and his ex-clubmate Nick Rutter.
Going into a materially level rook and bishop endgame with very little time left, Nat supported a push by his B pawn by advancing his king on the A file. It looked like he had managed to force a repetition that would secure the draw and the trophy, but Nick found a way through by sacrificing his bishop to stop the pawn and then exchanging rooks to leave his king better placed in the middle of the board. Both players queened but Nick had connected pawns on the kingside restricting Nat's checks and eventually forced a winning queen exchange.
The exciting game was worthy of appearing in a new book by Telepost member Steve Wilson. Due out later in the summer, My Life In Chess is "an account of the author's games and also of games through the centuries by some of the greatest chess players of their era, along with their profiles. There are a few puzzles included. Any new players will see there are levels for all to compete at. An engaging book which will build up knowledge of the game."
Steve has had proof copies of the book at recent club nights where we have welcomed a number of new members. This bodes well for the new season, and details of our teams for next year will be discussed at the Telepost AGM which has now been scheduled for August 23rd, at the club. All members, old and new, are encouraged to attend. Agenda items to Dennis by 16th August, please.
Our AGM follows on from the Shropshire AGM which was held at the club recently, hosted by Shropshire President Matthew Clark. The major topic discussed was a proposal from Telepost's John Casewell that an online league should continue even if over the board chess returns – the proposal was carried, along with a commitment to allow blue badge holders to play their matches online if both captains agree. A summary of what was decided, along with some pictures of Telepost's 2020-21 silverware haul, can be seen here.
---
The win that wasn't
25/07/21
In a cruel twist at the end of the online season, Telepost B's hopes of lifting the Minor Knockout trophy have been dashed by a software crash and some rigorous application of competition rules.
Facing Shrewsbury C in the final, the team were 1-0 down after an in-form Jim Wilkinson won top board for Shrewsbury. But on boards two and three Kate Walker and James Holyhead each pushed home attacks on the wing that left their opponents nowhere to go, to secure an apparent 2-1 victory.
James was left puzzled by some moves on the Lichess notation that didn't match what he had played, and Kate had initially assumed her opponent, Ivor Salter, had run out of time – the explanation turned out to be a Lichess server crash which meant some games had stalled. For the players, the crash does not always become immediately apparent as it can just appear as though your opponent is taking a long time on a particular move. Shrewsbury initially conceded the match but as the extent of the Lichess fault became clear the result was challenged under the Shropshire online rules which state that any games not completed at the time of the crash have to be replayed. Both Kate and James were in strong winning positions before the crash but rules is rules and the controller decided the matches would be played again.
The board one result stood and Kate faced a replay with Ivor knowing that she had to repeat her previous "win" – tiebreak rules for the competition meant any kind of overall draw would go in Shrewsbury's favour. As luck would have it, Ivor is a longtime tricky opponent for Kate and used all his experience to hold out for a draw. The board three replay thus became irrelevant to the outcome and was defaulted, leaving Shrewsbury as cup winners and the B team rueing their luck.
The Lichess crash also disrupted the Cox final clash between Telepost A and Newport A. Only one board was completed, a draw, so there is still all to play for in the rematch, date to be confirmed.
The future of online competitions in Shropshire will be the main topic discussed at the Shropshire Chess AGM, hosted at Telepost on Monday 26 July. John Casewell has tabled a proposal that online formats should continue even if we return to the traditional over the board season in the autumn. Despite the tribulations of the Cox and Minor, the various online tournaments have been remarkably smooth and successful and it is to be hoped that we can retain the positive elements of virtual play that have kept our game going – and in many ways thriving – throughout the pandemic.
Meanwhile, the physical club reopening continues and Paul Billington, aided by John Bashall, has been doing an excellent job welcoming new members and ensuring club nights run safely.
After a long wait, the Shropshire County Individual was finally resolved with Simon Maydew clinching top spot – see Toby Neal's report here. Telepost's Nat Paul was joint second and Matthew Clark, Kate Walker and John Westhead took a clean sweep of the grading prizes.
---
End-of-season cups within grasp
03/07/21
Telepost retain a strong interest in both the Cox Trophy and the Minor Knockout. Telepost A defeated Oswestry A in the Cox semi to advance to a final against perennial rivals Newport A. The 3-1 victory was aided by a winning appearance by William Bates, who normally favours the quicker stuff. Nat Paul and Richie Archer rounded off the win against a strong Oswestry side.
Telepost B reached the semifinal of the Minor Knockout at the expense of club colleagues Telepost E. The trio of Steve Rooney, Kate Walker and John Westhead take on Oswestry B in the semifinal this week. Telepost C lost by the narrowest of margins to Shrewsbury C – the match ended 1.5-1.5 but Shrewsbury go through on board elimination tie break. John Casewell and Paul Billington, standing in for regular players, both put up excellent fighting finishes to secure their respective win and draw against higher graded opposition. The finals of both competitions are scheduled for July 14.
The Shropshire County Individual remains unresolved as decisive matches have still not been played, but in the meantime Nat Paul tops the table after two rounds of the Shrewsbury Town Championships. Remarkably, seven Telepost players are currently grouped together on two points each, making inter-club match ups inevitable in coming rounds. An over the board Summer Individual, organised by Newport's Athar Ansari, begins next week.
The physical club opening continues on Monday evenings and club secretary Dennis Bonner encourages as many members as possible to join a session to support the club and ensure we retain our Monday evening slot.
---
Nick nicks Minor
17/06/21
The Shropshire Minor Individual Trophy has returned to Telepost in a last-round turnaround. The title, which Telepost's John Westhead won two years ago, looked destined to go to Richard Thompson of Telford who was unbeaten after six rounds. However, Nick Holmes was half a point behind Richard, and on Monday afternoon faced clubmate Dennis Bonner in the final round. There were no favours given as the match went down to a very close finish, which Nick sneaked in a Queen and Bishop ending. Later that day, Phil Love of Newport beat Thompson with a patient deconstruction of Richard's favoured London, to leave Nick tournament champion by half a point, giving Telepost their third trophy of the season. James Holyhead finished third overall.
The hunt for further honours in the end-of-season cup competitions started well this week, with four Telepost teams progressing through the first rounds. In the Cox Trophy, Telepost A's 3-1 win over Shrewsbury A included a long-form online debut win for William Bates. In the Minor, the B, C and E teams are all through, though B and E now meet each other in the next round. Telepost C's win over Telford A was only confirmed after some debate surrounding a default on board one after Telford's player failed to make the 30 minute cut off for starting the match. Telepost D were knocked out by a very strong Wellington A.
In potentially the best news of the week, if not the season, the reopening of the physical club went ahead on Monday. Numbers were limited by the amount of online team fixtures but Paul Billington reported that the Covid measures in place at the club worked smoothly and we look forward to welcoming more members in the coming weeks.
---
Congratulations William Bates – Lighter Knights Champion
11/06/21
After a flurry of matches over 24 hours, William Bates is the inaugural Lighter Knights champion having beaten Nat Paul in a swashbuckling final featuring a very open, counterattacking English. As organiser John Casewell commented, it was a game worthy of the final. James Holyhead and Paul Billington will play to decide 3rd/4th places.
---
Club reopens as individual competitions reach climax
10/06/21
15 months after our last non-virtual club night, the doors will finally be open to the chess club (and left open for ventilation!) at Telepost on Monday 14 June.
A number of Covid measures will be in place, including the requirement to wear masks while moving about, use of sanitiser and cleaning of equipment – see Dennis's email to all club members for full details. We look forward to welcoming members old and new as we navigate these new arrangements, celebrate the successes of the unique 2020-21 season and try to remember how to move actual pieces.
Three individual competitions are due to be decided over the next week or so. In the Shropshire Individual, Nat Paul is currently in joint top spot, waiting to see if Simon Maydew of Maddocks can catch him in his final game, and Phil Zabrocki can still finish in the top three but has to play the in-form John Westhead.
The Minor Individual has left Nick facing Dennis and needing a win for an outside chance of taking the title if Phil Love beats current leader Richard Thompson. Dennis and James are both in the mix for second and third spot.
In the Telepost Lighter Knights, William Bates won the Knights league ahead of Nat Paul, with John Westhead in third place having arguably the best performance of the league stage as the lowest graded player in the Knights pool. James Holyhead won the Bishops, with Paul Billington taking a head-to-head fight for second spot in his last match against Dennis Bonner. Congratulations to new member Foley Stocks, who finished fourth. Semi-finals are scheduled for this evening.
While Nat waits for the outcome of the Shropshire Individual he can reflect on a superb performance in the second ECF Checkmate Covid – a 24-hour fund-raising marathon of 5-minute games. Nat played the entire competition and amassed 416 points, including a win over Ginger GM Simon Williams, to finish third overall. GM Keith Arkell, who played for Telepost in this season's Rapidplay and hosted our Easter simul, was the overall winner and with William Bates in 16th and Phil Zabrocki in 21st place it was a terrific showing by Telepost players. If you feel like showing your appreciation, donations can still be made, in aid of the Red Cross, here.
Finally, the Cox and Minor Trophy draws have been made and first-round matches are to be played by 17 June. Details on the Shropshire Chess site.
---
Telepost thrive in online Double
25/05/21
Congratulations to Telepost's A teams, who have secured a fantastic Double in the Shropshire League and Shropshire Rapidplay.
The first title to be confirmed was the League – up against Maddocks A in the penultimate match of the season, an early draw from Phil Zabrocki and a win for Nat Paul against League Controller Adrian Zdanowski meant Telepost needed just a draw from the remaining two games to grab the single match point that would make them champions. Captain Matthew Clark, who had been tenaciously holding his position in a fiendishly complicated game against Simon Maydew as Nat played out his win, was thus able to take a draw and the championship, leaving Rich Archer to top things off with a patient and elegant win against Glyn Pugh.
Here are Matt's thoughts on the season as a whole:
It has been a golden season for Telepost A's Classical Chess Team. We adapted well to the challenge of online chess to win our first Shropshire League Title since 2014. Newport A have won the Shropshire League title for the last 5 years, so it is a great achievement for us to finish ahead of them.

This is the tenth Shropshire League title in Telepost's history. We first won the title in the year 2000. Competition records on the county website go back to 1946.

With one match to go, we have won 8 matches and drawn 3 for a total of 19 points.

The strength of the team has been the superb form of the top three boards. Galatico signings Nat Paul and Richard Archer lived up to their stellar reputations achieving scores of 10/11 and 11/11 respectively on boards 1 and 3. Our third musketeer Phil Zabrocki also did incredibly well on board 2, scoring 8/11. The consistent excellence of these three players has been fantastic and I thoroughly recommend club members to look through some of their games.

We found life harder on board 4. Captain Matthew Clark, battled his way to 2.5/8 and new signing Mark Nightall scored 0.5/3. This shows the strength of the league and emphasises the achievement of the top three players.

Nigel Ferrington kindly helped us out in one game and kept up his record of being involved in every one of Telepost's 10 League Titles.

Many thanks to Dennis for his support as Club Secretary, to Nick for his work on the Telepost and Shropshire websites, to John for his work with the Dark Knights and to Kate for her work on the calendar.

We managed to win the Rapid Play League as well and we will be aiming for the Treble with the Cox Trophy. (I don't think we've ever won a treble before?).

The Telepost Chess Club has thrived in Remote and that is down to the enthusiasm of many of us.

I am sure we are all looking forward to meeting up and getting back to over the board Chess soon.

Best wishes,

Matthew Clark,
Telepost A Classical Chess Captain.
On Monday of this week, the Rapidplay title was confirmed as Telepost Dark Knights won the fifth and final Team Battle arena with a score of 100 points. This means they top the overall table with 24 points, 5 clear of Mad Wolves, who pushed them hard on each of the five arenas. Telepost's strength has been the depth of the squad, typified in the final arena by all five of Telepost's top scoring players finishing in the top ten performers for the evening as a whole.
Captain Nat Paul, who was instrumental in the title success through some enthusiastic recruitment of players able to take on the all-stars assembled by Mad Wolves, commented:
Following on from the A team's triumph in the long-play division 1 it was great to seal the season's second div 1 league title with success in the so-called Shropshire Rapidplay league. It was a fantastic team effort with a strong squad of ten players. We were against some strong opposition and quite lucky in terms of our rivals not being able to field their teams consistently enough. There were many strong performances throughout the season and everyone should be proud of their efforts. Most definitely five evenings of really fun and rewarding chess!
There will be a few more outings for the league teams – it has been confirmed that the Cox and Minor trophies will take place, commencing in June. Attention now shifts to the individual competitions. Telepost players remain in the hunt for the Shropshire Individual and the Shropshire Minor, both of which reach a climax over the next month, along with our own Telepost Lighter Knights, while the Shrewsbury Town Championships will continue over the summer.
---
Ups, downs and on the brink
13/05/21
With two weeks left in the Shropshire League season, there are marked contrasts in the fate of Telepost's five teams. Telepost A are on the brink of securing their first Division 1 title since 2014 after a win against perennial rivals Newport A – see the full story in Toby Neal's Shropshire Star report. A positive result against Maddocks A on Monday 17 May will see them home.
On the up are Telepost D who finished second in Division 3, with the title taken by a Shrewsbury C squad featuring players normally seen in divisions one and two. Telepost E took the wooden spoon in the division.
Division Two has proved a tough gig – with one round of matches left to play, Telepost C are rooted to the bottom, still fighting for an elusive first positive result, with Telepost B second bottom and unable to catch the team above.
Telepost B's hopes of second spot in Division Two of the Five Counties were dashed by a heavy 0.5-5.5 last-round defeat to division champions Malpas and Friends, who finished seven points clear of their nearest rivals. The rest of the field were closely bunched and the division this season was characterised by strong players on the top boards, many of them rapidly improving youngsters. Half of Telepost's squad finished with 50% or better, but the players on the top three boards were all 35% or less. Player of the season was Dennis with a score of 6/8.
Dennis is also joint leader, with James, of the Knights division at the halfway point of the league stage of the Lighter Knights Individual. Will Bates and Nat Paul lead tne Bishops.
A reminder that subs are now due for Telepost membership – all members should have received an email from Dennis with the details. The ECF have issued tentative guidelines for clubs as we edge closer to a return to over the board chess.
---
Killer Kate KOs Keith
28/04/21
The Telepost-hosted Easter Simul with GM Keith Arkell proved a great success, with 19 Shropshire players with Lichess ratings from 1524 to 2020 taking on the challenge. Nine Telepost members took part, and "Killer" Kate lived up to her nickname with a win that Keith described as "crushing", while Phil Zabrocki, John Westhead and Nick Holmes drew. Keith won 13 of the matches and commented on how hard he was made to work on all the boards. Thanks go to Keith, who was a great sport throughout and very generous in his after-match comments, and to organiser Nat Paul. Further details in Toby Neal's Shropshire Star report.
In the league, Telepost E broke their season duck with a fine 3-0 win over Shrewsbury D that included an online league debut for Paul Billington, a supersub appearance from Peter Crean and a rare league win for Nick Holmes. With the D team meantime having secured an excellent 2.5-0.5 win against Newport C, the E team's result confirmed D as division runners up with one round of matches left to play. Telepost C tried to emulate the duck-ending feat in Division 2 but went down 0-3 to Shrewsbury B. Thursday 6 May sees the first of two top-of-the-table clashes that should decide Division 1 as Telepost A take on Newport A.
Another decisive fixture takes place on Tuesday 4, as Telepost B attempt to secure second spot in the Five Counties Division 2, following a 3-3 draw with Surbiton B this week that left them level on points with Uxbridge B. It will be no easy task – their opponents for the final match are unbeaten table-toppers Malpas and Friends B. Meanwhile, A team captain Matthew Clark reflected on his team's season in Division 1:
The Five Counties A team finished the season with a resounding 5-1 win against Staines and Runnymede. This meant that we ended up on a total of 5 points from wins against Staines and Runnymede and Maidenhead and an exciting draw against local rivals, Malpas and Oswestry.

We ended up coming 6th in the League; only 3 points behind the 2nd place team. Congratulations to Phil who was our leading points scorer with 4/6 and to Richard, who had the best percentage and grading performance with 3/3.
The Telepost Lighter Knights competition got off to an excellent start with some exciting matches in the opening rounds. Take a look at a swashbuckling encounter between Steve Rooney and Rob Nieldor early fireworks followed by dogged endgame defence in Nat Paul v Matthew Clark for some notable early tussles. There was also a debut for a new club member, Foley Stocks – welcome Foley. As that tournament begins, others are approaching a climax – Matt followed up his draw against Nat in their Lighter Knights game with a pretty win against Newport's Chris Lewis in the County Individual that means at least three Telepost players are in the mix for the title or runners up spot. There's a similar situation in the Minor Individual – with two rounds remaining, James Holyhead and Nick Holmes are half a point behind the leader and Dennis Bonner is also in contention a point further behind.
Finally, a final call for entries for the Shrewsbury Town Championships. 18 players are currently signed up – a great turnout. Contact Paul Billington asap if you'd like to join them.
---
A team hold their nerve
15/04/21
A dramatic night in Division 1 of the Shropshire League saw Telepost A retain top spot by one point over close rivals Newport A following a fine team effort in their 3-1 victory over Oswestry A. A draw for Matthew Clark and win for Phil Zabrocki gave them the lead but the win was by no means certain with Nat Paul seemingly in trouble on board one and Richard Archer in a tight, evenly balanced position on board three, and both matches heading for the red zone on the clocks. Aware of each other's positions, Nat somehow held on long enough for Rich to engineer a win before capping the display with what some WhatsApp commentators fashioned a "slippery" escape for a draw in his own game.
Our other league teams fared less well – Telpost B lost 0.5-2.5 to Shrewsbury B in Division 2, while in Division 3 any hopes of Telepost E doing Telepost D a favour by securing a result against league leaders Shrewsbury C proved ill-founded with a 3-0 whitewash. The D team's loss to Oswestry C on the same evening leaves Shrewsbury C six points clear and champions elect with two rounds of matches to go.
In the Five Counties, Telepost A finished the 2021 Winter season on a high with an entertaining and convincing 5-1 win over bottom team Staines and Runnymede to finish second bottom but avoiding the drop as only one team is demoted from the division. Division 2, in contrast, is still all to play for. Telepost B closed out a 3.5-2.5 win against Uxbridge Juniors to retain hopes of second place – but they are one of five teams fighting for the position with two rounds of fixtures remaining.
The Telepost Dark Knights Winter Swiss concluded with the final table as follows:
Telepost Online Winter 20 Swiss
Final Result
(SOS = sum of opponents' scores)
| Placing | Player | Score | SOS |
| --- | --- | --- | --- |
| 1 | Richard Archer | 5.5/6 | |
| 2 | Nat Paul | 5/6 | |
| 3 | Phil Zabrocki | 4.5/6 | |
| 4 | Rob Nield | 4/6 | |
| 5 = | Mark Nightall | 3.5/6 | 22.5 |
| | Steve Rooney | 3.5/6 | 19.5 |
| | Matthew Clark | 3.5/6 | 18.5 |
| | Keith Tabner | 3.5/6 | 18 |
| 9 = | Dennis Bonner | 3/6 | 18 |
| | James Holyhead | 3/6 | 16 |
| | Kate Walker | 3/6 | 15 |
| | Peter Crean | 3/6 | 14.5 |
| 13 = | Nick Holmes | 2.5/6 | 17.5 |
| | John Westhead | 2.5/6 | 14.5 |
| 15 = | Bill Clarke | 2/4 | |
| | John Casewell | 2/6 | |
| 17 = | Shane Sweeney | 1.5/6 | 14.5 |
| | Martin Ayres | 1.5/6 | 13 |
| 19 | Mark Randell | 1/6 | |
Tournament organiser John Casewell commented, "I'm delighted at the large entry and the fact it was closely contested. We could all enjoy looking at the games in real time or in our own time. Everyone seemed to enjoy themselves and all the games were played on time." Participants seemed to agree, sending in congratulations to John for a very well-run event. Next up is the Lighter Knights Individual, an all-play-all league in two divisions, commencing next week – all the details are on the tournament page.
Next week also sees the Dark Knights-hosted simultaneous with Grandmaster Keith Arkell on Monday 19 April. Entries are still being accepted – contact Nat via nathanaelpaul92@googlemail.comfor details. And entries are now being taken for the Shrewsbury Town Championships. Played over the summer months, the competiton is for any members of Shrewsbury-based clubs. Telepost's Paul Billington is running the competition having taken over from Keith Tabner, who ran the championship seamlessly for many years. All the details are on the Shropshire site, and entries can be made by email or phone to Paul.
---
Richly deserved
1/04/21
Congratulations to Richard Archer, who has won the Telepost Dark Knights Winter Swiss with a superb score of 5.5/6, clinching the title by half a point from Nat Paul on 5/6. It has been a closely fought contest between the two, epitomised by the exciting draw when the players met in the fourth round (see 03/02/21 below). Rich's winning final-round game against Mark Nightall features in the latest edition of Rob Nield's Game of the Week. With a number of final round games remaining to be played, third place is still very much up for grabs.
Congratulations also to Mark Randell, playing his first season of competitive chess, who scored his first positive result in the Shropshire League, picking up a draw in Telepost E's 0.5-2.5 defeat to Newport C. In the same division, Telepost D suffered a setback to their hopes for the title with a 2-1 defeat to Shrewsbury D. They remain in second place, behind Shrewsbury C, who they play in the last match of the campaign. In Division 1, Telepost A's 2-2 draw with Maddocks A leaves them top of the table, but just one point clear of perennial rivals Newport A.
Grandmaster Keith Arkell gave a masterclass in speed chess in Telepost Dark Knights' resounding win in the third Shropshire Rapidplay Arena – full report from Toby Neal here. A reminder that there's a chance for any Shropshire players to take on Keith – in a less hectic time control – in a simultaneous on 19 April. There's no limit on the number of challengers and we hope for a good turnout from Telepost players of all standards – details here.
In the Five Counties, Telepost B got back to winning ways with a 4-2 victory against Uxbridge C that lifts them away from the relegation zone and back into the mix for second spot. The win included John Casewell withstanding being asked to speed up by his young opponent who also asked for a takeback of a mouse slip and peppered John with draw offers once clearly losing. Clearly some lessons in etiquette needed. Telepost A had a bye in the latest round of fixtures.
Behind the scenes there is the welcome news that the Cox and Minor trophies and the Shrewsbury Town Championships are all likely to run this spring/summer, having fallen to covid last year. Further details soon.
---
Rob zooms in on the action
18/03/21
Telepost's Zoom meeting held on Monday 15 April produced new initiatives and plenty of ideas for the coming months. As well as meeting our new members "face to face", attendees discussed new events and how online chess might continue alongside OTB. John C confirmed that a new Dark Knights tournament will begin in April, with two all-play-all leagues. There was a lot of support for some individual rapidplay events that cater to lower graded players, with 10/5 timing favoured, and it was agreed that the Shropshire AGM should include proposals for online events to continue in a "happy marriage" with OTB.
Rob Nield proposed a series of videos on game of the week, plus opportunities to discuss games – one element of OTB that many players miss. Not one to hang around, Rob produced the first excellent video the next day – it featues Nat Paul against Nick Rutter, and can be viewed on YouTube here. There is also a Lichess study available. As Rob said, "The idea is to create an archive of nice games from the club's players at all levels and hopefully provide a hub for a little more analysis and game discussion within the club". You can subscribe to the Youtube channel, and there's also a link from the Dark Knights' forum. If you have a particular game you'd like to see featured, contact Rob.
Another initiative that hit the ground running is an Easter Simul with Telepost's newest recruit, Grandmaster Keith Arkell. Book your diary for 19 April, 7.30pm on Lichess. Full details here.
Further details of Monday's meeting can be found in the minutes, available here.
The highly competitive Dark Knights Winter Swiss has reached crunch point. As the final round begins, five players are in contention for the title, with current standings at the top as follows:
Richard Archer 4.5
Rob Nield 4
Nathanael Paul 4
Mark Nightall 3.5
Phil Zabrocki 3.5
The full draw for round six is:
Mark Nightall v Richard Archer
Nat Paul v Rob Nield
Phil Zabrocki v Dennis Bonner
Keith Tabner v Steve Rooney
Kate Walker v Matthew Clark
James Holyhead v John Westhead
Peter Crean v John Casewell
Nick Holmes v Mark Randell
Shane Sweeney v Martin Ayres
Dates of individual matches, once arranged, can be found on Kate's online calendar.
Telepost players also feature at the top of the tables in the County individual competitions. With two rounds to go in the prestigious County Individual, Nat Paul is joint top as he attempts to defend the title he won last season, with Phil Zabrocki just half a point behind. The Minor Individual has reached round four and Dennis Bonner, James Holyhead and Nick Holmes are all within one point of the current leader, Telford's Richard Thompson.
League action saw Telepost A regain top spot in Division 1 with a 3.5-05 win against Shrewsbury A that featured some dramatic and creative play. Have a look at Nat Paul v Ted Eales and Richard Archer v Matt Best for some intriguing final moves. Telepost B and C continue to find it tough in Division 2, with losses to Wellington A for the B team and both Telford A and league leaders Newport B for the C team.
In the latest round of Five Counties, Telepost A's 4-2 defeat to British Bangla B included what captain Matthew Clark described as the "most outrageous escape of my life", while Telepost B picked up a much needed point with a draw against Uxbridge B in which white won on all six boards.
Finally, if anyone fancies having a go as a competition controller, Keith Tabner wishes to stand down as organiser of the Shrewsbury Town Championships and the Cox and Minor Cups, after many years of excellent service in the role. Contact Keith or Matthew Clark if you'd like to know more.
---
A Grand night in the rapids
03/03/21
Telepost have moved to within two game points of leaders Mad Wolves after winning the second Shropshire Rapidplay Arena with the help of some high-powered new recruits. Captain Nat Paul took up the gauntlet thrown down by Mad Wolves' team selection for the first Arena, which included a number of high-graded players from beyond the Shropshire borders. Nat went on a recruitment drive that brought in GM Keith Arkell, who has longstanding connections to county clubs, and 2140-rated Don Mason.
Keith was the highest-scoring player on the night, with 28 points, backed up by a superb 26 from Phil Zabrocki, well known for being partial to the fast stuff. With four other players in the top ten on the night, Telepost amassed 121 points to Mad Wolves' 97. There were plenty of spectators for a competition that is fast becoming the most competitive and innovative of the new online scene. The next Arena in the five-night series is on March 25th.
Action in the league centred on Division 3. Both our teams suffered heavy defeats on 19 Feb – in the case of the D team this was a top-of-the-table clash against a Shrewsbury C team including two players who feature regularly in Division 1 in normal times. That Shrewsbury brought out their strongest team of the season so far can perhaps be seen as a compliment to the D team's form. They regained some ground in the table by taking the club derby with Telepost E 2-1 earlier this week, the match decided in a dogged encounter between John Casewell and Mark Randell that went the full distance.
It was another night of hard knocks in the Five Counties on Tuesday. Telepost A went down 4.5-1.5 to leaders Uxbridge A, the solitary win coming from the in-form Phil Zabrocki. Telepost B had the same score against Maidenhead B, the win this time coming from James Holyhead. Further evidence that the teams of juniors are progressing fast.
A good response to John Casewell's proposed individual league format for the next Dark Knights competition means there are likely to be two divisions of seven players each, to commence in April after the conclusion of the Winter Swiss. Nat Paul retained his White Knight status at the top of the Ladder for a fourth month. Some of the big hitters remain lurking on the lower rungs.
Dennis reported back from his survey that there was general enthusiasm for online activities to continue once OTB play resumes. John C pointed out there were considerable benefits to online for players with limited mobility, and that spectating opportunities were enhanced, especially as seen in the Rapidplay Arenas. The mix of OTB and online will need to be discussed once the resumption of real-world shoving of wood and plastic in draughty halls is confirmed, but Dennis welcomes any further thoughts and ideas.
Lastly, a new-look Shropshire Chess website launched this week at its usual address, shropshirechess.org. Please send any feedback and ideas for further features to the editor, Nick Holmes.
---
Derby double-header for A team
17/02/21
Two encounters in two days against Oswestry/Malpas left Telepost A in top spot in Division 1 of the Shropshire League, and on level terms with their border town rivals in the Five Counties. Monday's 3.5-0.5 league victory, including wins for Nat Paul, Phil Zabrocki and Richard Archer and a draw for Matthew Clark, left them one point clear of Newport at the halfway point in the season and gave a healthy boost to their points difference.
On Tuesday, a six-man A team took on Malpas and Friends in Five Counties Division 1 – captain Matt Clark reports:
There was a lot of excitement surrounding this match this evening. Telepost and Malpas fly the flag for the West Midlands and the North West in the 5 Counties Chess League, competing with strong southern teams, such as Uxbridge and Maidenhead.

8 of the players had been involved in last night's Telepost-Oswestry match in the Shropshire online league, so we were all well prepared for the local derby.

Board 2 was a quick draw and Richard Archer, making his debut in the 5 Counties League, was the first player to score a full point on board 3. Matthew Clark secured a 2nd win on board 5, so Telepost went into a 2.5-0.5 lead. However, all three remaining boards looked good for Malpas, so they looked set for the match win. Malpas did indeed win boards 4 and 6, so the whole match hung on the Board 1 game.

In a time-scramble, Nat managed to conjure up a draw in a tense King and Pawn ending, so in the end honours were even and the match was tied 3-3.

The whole evening was a great advert for internet Chess and we look forward to a match vs. League leaders Uxbridge A on Tuesday 2nd March.
Sadly Telepost B couldn't follow suit in the Five Counties, going down to a heavy 5-1 defeat against St Albans Early Knights A. John Westhead saved the whitewash blushes against a team of seemingly rapidly improving youngsters.
The win for John was a comeback after a hard fought loss the previous evening to Dennis Bonner in the Telepost B v C derby match in Shropshire League Division 2. John's B team took the overall victory, however, with Steve Rooney forcing through a central pawn against Rob Nield and "killer" Kate Walker merciless in taking apart Nick Holmes.
Some compensation for Nick was a first-ever win against the Morra Gambit, against Matthew in the Telepost Ladder. The other Telepost Dark Knights competition, the Winter Swiss, reached the end of round 4:
Nat Paul 0.5 – 0.5 Richard Archer
Phil Zabrocki 1 – 0 John Westhead
Bill Clarke 0 – 1 Rob Nield
Keith Tabner 1 – 0 Dennis Bonner
Matthew Clark 1 – 0 John Casewell
Mark Nightall 1 – 0 Peter Crean
Kate Walker 1 – 0 Martin Ayres
Shane Sweeney 0 – 1 Steve Rooney
James Holyhead 1 – 0 Nick Holmes
Mark Randell – bye
Round 5 has been drawn, matches to be played by 18 March.
Significant recruitment behind the scenes means that next week's Rapidplay Arena 2 promises to be one of the highest-graded encounters in Shropshire outside the annual Congress, with Telepost taking on the challenge set by Maddocks' all-star Mad Wolves team. To find out more, follow this linkto watch the fireworks of the 3/2 arena format, Wednesday 24 February, 7.30pm.
With so much online activity – some players have as many as four matches in a week – club secretary Dennis Bonner has begun a consultation on whether and how online competitions should continue once over-the-board chess returns. Discussion so far has been on the WhatsApp group, but Dennis would welcome views from any members. Email him with your thoughts.
---
Debuts and drama
03/02/21
It's rapidplay, but not as we know it. The online replacement for the Shropshire Rapidplay League began last week with the first of five arena nights featuring a 3/2 format and, as it transpired, some very competitive action. Telepost fielded a strong team and took an early lead before being overhauled by a "Mad Wolves" team, loosely based around Maddocks and featuring a number of very strong players from beyond the Shropshire borders. Star players for Telepost, who eventually finished second on the night, were Richard Archer, who amassed 24 points from 15 games, and Nigel Ferrington, with 22 points from 16 games. Some 288 games were played in total, amongst a field with an average rating of 1933.
In the regular league, Telepost B faced a tough double header of two games in four days. Their 2-1 loss to Shrewsbury B included a win from Keith Tabner, while a second defeat, 3-0 to league leaders Newport B, featured a welcome league debut from Steve Rooney. Kate met her nemesis Dan Hilditch-Love, who had also been the only player to beat Nigel in the rapidplay. One to watch!
Nigel made his own league debut in a top-of-the-table Division 1 clash between Telepost A and Newport A, which finished 2-2 and left Telepost top of the table by one point at the midway point of the season.
Tuesday 2 Feb was a night of drama in the Five Counties competition, with both our teams emerging 3.5-2.5 winners in matches that went to the wire. For Telepost A, captain Matthew Clark rebounded from a couple of painful losses in individual competitions with a sweet Morra Gambit win, and Steve Rooney, in another debut, fought out a highly complicated four minor pieces and loads of pawns ending to secure a vital draw. That was all the sweeter for being against Maddocks' Dave Gostelow, playing for opponents Maidenhead. Mark Nightall then secured the win in another complex ending. Meanwhile, Telepost B's match came down to the last board, with John Casewell taking one for the team with a sneaky draw offer that worked, and garnered the points.
All the individual competitions, both club and county, are in full swing now. If you like your chess exciting and unpredictable, take a look at this top-board clash in the Winter Swiss between Nat and Rich, in which Nat somehow sneaked a perpetual draw. The large audience on the night were kept well entertained:
https://lichess.org/embed/WwfJgKPE#4?theme=auto&bg=auto
---
Martin makes his mark
20/01/21
On a very busy night both on and off the board on Monday 18 Dec, Telepost E captain Martin Ayres secured a fine win against Jim Wilkinson of Shrewsbury C, graded a full 50 points in old money above Martin. In a Queen's Gambit Declined, Martin withstood a determined C pawn push by Jim to emerge a piece up and secure the win. The strong Shrewsbury side would grace the top half of Division 2, let alone Division 3, and teammates Bill Clarke and Mark Randell also had fine games against Dan Lockett and Ivor Salter, but Shrewsbury eventually took the tie 2-1.
Meanwhile, in the same division, Telepost D scored an excellent 3-0 win over Newport C to join Shrewsbury at the top of the table. Shane broke through with a knight against Dave Lovegrove to mate on the back rank, unsurprisingly gaining time on his clock in the process, while James went a piece up against Willie Gormley and made it count with some very nice knight manoeuvres. The real drama came on the last board to finish, with captain John Casewell finding a delightful minor piece mate against Malcolm Price as both players went in and out of the red on the clocks, surviving on wits and increments.
Concurrently, there was a similar time scramble in the final match of the third round of the Winter Swiss between John W and Dennis, this one ending in a very hard-fought draw, as we belatedly discovered that the Five Counties new season was due to start the next day – cue plenty of post-match cobbling together of players and an excellent effort to sort out two teams ready for the following evening.
Full results for round three of the Winter Swiss:
Richard Archer 1 – 0 Rob Nield
John Westhead 0.5 – 0.5 Dennis Bonner
Phil Zabrocki 1 – 0 Matthew Clark
Steve Rooney 0 – 1 Nat Paul
Kate Walker 0 – 1 Keith Tabner
Peter Crean 0 – 1 Bill Clarke
Martin Ayres 0 – 1 John Casewell
Nick Holmes 0 – 1 Mark Nightall
Mark Randell 0 – 1 Shane Sweeney
Bye James Holyhead
The fourth round has been drawn, matches to be played by 18 Feb.
Having garnered two teams for Tuesday evening, and with James Holyhead in place as captain of Telepost B, the new Five Counties season began with a tough task for Telepost A in Division 1. They faced the winners of the previous season, British Bangla Chess Association A, whose weakest player was graded 1908. Phil and Matthew got draws and the opponents defaulted one board, but British Bangla still edged the fixture 4-2. But with a number of new recruits to the Five Counties team, captain Matthew Clark is determined that we will show we can compete amongst such lofty company. For the B team, it was as though the previous season had never ended, a 5.5-0.5 win against Hatch End A taking them to the top of the Division 2 table, where they spent most of last season. With the top two boards from last season's team now in the A team, it will be interesting to see how we fare across the season as a whole.
The Shropshire Rapidplay League has now been confirmed as starting next Monday, 25 January. It will consist of one division, after a lack of interest from other clubs in division two, played as five rounds of a 3/2 two-hour arena format.
Lastly, but definitely not least, some lockdown reading for you. If you've wondered what it's like to play a sustained, high-level online competition, have a look at Kate Walker's new report on the British Championships, played over the Christmas and New Year period. Kate was one of three Telepost players in the Championships and her report gives a great insight to both the technical and psychological challenges of a unique tournament.
---
Newport foil second trophy bid
11/01/21
Telepost were pipped at the final hurdle in their bid for a second trophy of the season, the New Year Team Quickplay Trophy. Replacing the normal Summer Quickplay event, which fell victim to the pandemic, the event was held on Lichess on Sunday 10 January and featured five teams playing a seven-round qualifier followed by semi-finals and final.
With team captain Matthew Clark unable to play at the last moment, Nigel Ferrington stepped in for his first appearance in a team event for the club since the suspension of over the board chess. Fielding county champion Nat Paul on board two, Telepost had a strong team, and did well to top the group stage of the competition ahead of a Newport team that included IM Lawrence Cooper, and high-graded turnouts from Shrewsbury and a combined Wellington/Maddocks team.
Telepost progressed to the final after a draw against Shrewsbury in the semi-final – the rules of the competition putting the higher placed team from the qualifying stage through. The outcome of the final against Newport went down to the last match, with the scores 2-2 as Nat tried to find a way past Newport's Gavyn Cooper. With a couple of the 20 minutes allowed left, Nat's king was trapped behind a pawn blockade and eventually undone by Cooper's rook breaking through to the back rank. Honours to Newport, with the 3-2 win. Player of the tournament for Telepost was Richard Archer, with a superb 7/7 on board 4, backed up by Phil Zabrocki and Kate Walker, each with 5.5/7.
Archer was to the fore in another New Year event, the Telepost Dark Knights Rapid, which took place on Monday 4 Jan, with nine players competing in a 5/3 format. After losing his first game, Rich went on an unbeaten run of six games to overtake early leader Phil and win the event. All involved enjoyed the event, intended partly as a familiarisation for the upcoming Shropshire Rapidplay season. It now looks as though that competition will be of one division only. Details to be announced soon.
---
Telepost Take Five
23/12/20
After a tense 3.5-2.5 final-round win against Hatch End Telepost have been crowned champions of Division Two of the Five Counties Online League. Captain Matthew Clark reports:
I am delighted to report that Telepost have won Division 2 of the Five Counties Online Chess League. This will mean that we are promoted to Division 1 for the next season, which will start in January.

Throughout the season we won 7 matches and drew 1, remaining undefeated across the full fixture list. Player of the season was Nick Holmes, who scored a remarkable 7.5/8.

Man of the match in the final match against Hatch End was John Casewell, and it was fitting that John should secure the final win to seal our promotion.

The full squad was: Phil Zabrocki, Matthew Clark, Kate Walker, John Westhead, Nick Holmes, Dennis Bonner, James Holyhead, Nat Paul and John Casewell.
Congratulations to all involved – as club secretary Dennis Bonner remarked on the night, it shows real strength in depth with the team comprised of players from across our regular league teams.
In the league, our Division Three teams were in action this week. Telepost D's 2-1 win over Shrewsbury D places them in second spot on points difference, while Telepost E suffered a narrow loss to Newport C.
Congratulations to Kate Walker, who reached the finals in the Women's Championship section of the Caplin British Online Championships. She is now in the midst of the seven-round main event, playing some of the country's strongest players. You can follow her progress, and that of Nat Paul and James Holyhead in other British Championship events here.
You can also hear of her progress and plenty of other bits and pieces on the new Telepost Dark Knights WhatsApp group – contact Dennis if you'd like to join. A reminder too of the Dark Knights New Year Rapid Arena, to be held on 4 January, ahead of the new Shropshire Rapidplay season. All welcome whether intending to play in the league or not.
Finally, after this most unusual year, season's greetings to all our members as we look forward to the resumption of over the board club life at some point in the new year.
---
Festive Simul sees Shane shine
20/12/20
Another busy week has seen plenty of action at club, county league and national level for Telepost players.
Wednesday saw our Christmas Simul, with County Individual Champion Nat Paul taking on 10 players, including two Shropshire League guests, in what proved a very enjoyable evening. Players were able to watch all the games as they played and there was plenty of kibbitzing both in the tournament chat on Lichess and via Teamspeak. Bill Bates scored an early win for the challengers and then did his best to distract Nat, who still secured an excellent seven wins before a couple more losses in the final time scramble, to Kate and Dennis. Special mention goes to Shane, who kept Nat very busy with a 118-move epic. Club regulars won't be surprised to learn that despite this Shane finished with 10 more minutes than he started with! Our thanks go to Nat for taking on the challenge.
If Monday night had been over the board it would have been one of those nights when it was standing room only at the clubhouse, with three of our teams in action. Telepost A dropped their first point of the season with a draw against Maddocks A, but remain top of Division One, while Telepost B are joint top of Division Two after an excellent draw against title favourites Wellington A. Telepost C are propping up the same division after a 3-0 reverse against Telford.
The second round of the Dark Knights Winter Swiss concluded:
Bill Clarke 0 – 1 Richard Archer
Keith Tabner 0 – 1 John Westhead
Rob Nield 1 – 0 Peter Crean
Dennis Bonner 0.5 – 0.5 Steve Rooney
Mark Nightall 0 – 1 Phil Zabrocki 1
Nat Paul 1 – 0 Nick Holmes
Matthew Clark 1 – 0 James Holyhead
Shane Sweeney 0 – 1 Kate Walker
Martin Ayres 1 – 0 Mark Randell
John Casewell – bye
Round 3 has been drawn and you can find details of match dates as they are arranged on Kate's calendar.
At a national level, Nat Paul, Kate Walker and James Holyhead are all taking part in the Caplin British Online Championships. At time of writing, Nat is on 2/3 and James 1/3 in the Championship Qualifier and Kate 2/3 in the Womens Qualifier, with her next opponent the top seed WFM Maria Emilianova. You can follow the progress of all three here.
Tuesday 22 Dec sees the final round of the Five Counties Championship, with Telepost taking on Hatch End, seeking the win that would guarantee the Division Two champions' spot. You can watch the match on Lichess by searching for our players (PhilZabrocki, Budapest23, Bikejohn, telenick, Wheathill and SalopianBlade43), starting at 7pm.
Finally, another festive event for your diary – a club rapid arena to be held by Telepost Dark Knights on Monday 4 January at 7.30pm. Format is as the forthcoming Shropshire Rapidplay league, with a 5/3 time control, so a good chance to give this variety of chess a try.
---
Trophies past and future
11/12/20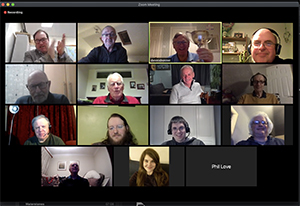 Trophy presentation in a time of covid
As Telepost C sort of received their trophy for last season's Division 2 success (see pic), our teams continued the chase for this season's silverware this week.
Telepost got back to winning ways in the Five Counties and now need a draw in their final match in Christmas Week to be crowned Division Two champions. The 5-1 win against Surbiton B increased an already healthy points difference.
The Shropshire league is in full swing now and the A team sescured a fine 3.5-0.5 win against Shrewsbury to move two points clear at the top of the Division 1 table. It looks like a very competitve division, though, with a number of strong ex-Shropshire players turning out for various clubs. In Division 2, Telepost B beat Oswestry 2-1, including a win for James Holyhead playing up from Telepost D, while Telepost C lost 2.5-0.5 to a very strong Wellington side who must rank as early contenders for the title.
The Dark Knights have now extended their invitation to the Christmas Simul to include any Shropshire players. After a useful test event we settled on a 50/15 time limit for challengers (60/15 for Nat) and random colours. Email John Casewell (johncasewell@hotmail.com) by Tuesday 15th December if you'd like to play. The event itself is at 7.30pm on Wednesday 16th Dec, on Lichess.
The AGM on Thursday – which featured the trophy "presentation" pictured – agreed to the proposed Rapidplay arena format and to a January team Quickplay event. Let Dennis know if you'd like to play in either or both. Minutes of the AGM are here.