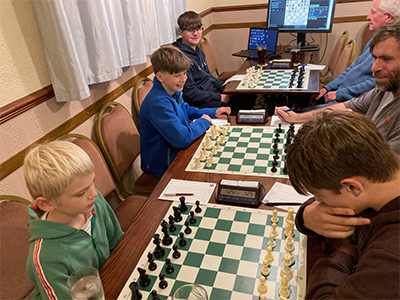 A trio of club derbies have launched the new league season at Telepost. History was made on the opening night as Telepost Juniors made their debut appearance against Telepost D in Division Three – the first two teams of a record seven for Telepost this season, and the first of three matches in the county involving Juniors that week. Merry Curtis picked up the Juniors' first game point, with a win against Shane Sweeney on board two despite an early loss of material, but the D team won the match 3-1. Meanwhile, Telepost C's introduction to life in Division One was an encounter with a Telepost A side boosted by the return of Nat Paul to the club from Shrewsbury. Nat, having nipped in to transfer just before the fixture, won an extremely tight and high quality match against Dan Hilditch-Love on board one to conclude a 4.5-0.5 win for the A team. The C team's blushes were saved by a draw by repetition for Nick Holmes against David Hodge – an unusually complex repetition which the players had to play back through a couple of times to double check! The third derby was in Division Two, where a very strong Telepost B ran out 4-1 winners against Telepost E – the Es' point came from Cesar Pileggi and captain Alex Brims securing draws against Steve Kempsell and Archie Flavell. Our seventh team, Telepost F, begin their season on Monday 9 October, at home to Shrewsbury B.
Telepost Dark Knights have opened their campaign in the latest 4NCL online season with highly contrasting results. Their opening match was a 4-0 whitewash at the hands of Witney but they bounced back with a 3-1 win against Charlton Cobras D, despite having to default the bottom board. These results are typical of Division 5 in 4NCL, since some high quality debutant teams enter the competition via this division, alongside a number of novice teams. Telepost's captain Matthew Clark has to negotiate a way through these contrasting fixtures – do let him know if you'd like to join the team squad.
The Shrewsbury Town Championship will be moving to playoff matches after Shrewsbury's Dan Lockett beat Telepost's Dan Hilditch-Love in round five – Telepost's Dan was the only player who could have won the competition outright and Shrewsbury's Dan is now level on four points with Telepost's Nigel Ferrington and Shane Greenwood. With a number of final round games still to be played the trio could still be joined by one or two other players to create a complex playoff scenario for organiser Paul Billington.
Congratulations to Maddocks' Tony Preece who has been announced as the winner of last season's Colin Roberts Memorial Trophy. Games from Telepost's Dan Hilditch-Love and Charlie Bethune featured in the final deliberations of the judges. Keep a note of your best games this season – the brilliancy competition is open to submissions from any Shropshire player in any recognised competition, including congresses.
Entries are now being taken for the Shropshire Chess Congress, to be held at the Wrekin Housing Trust in Telford from 12-14 January. There are Open, U1900, U1700 and U1500 sections. Organisers are also looking for more volunteers to help with setting up/clearing and with some front of house roles – contact Chris Lewis if you're interested.