Telepost A, recently strengthened by the return of Nat Paul, have gone double top in the Shropshire Division One standard and rapidplay leagues in an early statement of their intent to compete for silverware this season. In League Division One, a 4-1 win away to newly promoted Telford A leaves Telepost level on points with Newport A, who inflicted a 5-0 whitewash on Telepost C. The rapidplay campaign began with a remarkable 10.5/12 game points scored on the first evening at Maddocks. Top boards Nigel Ferrington and Paul each scored 100% and new team captain David Hodge remained unbeaten. Telepost B picked up a win against Maddocks B on the same night in a league that looks very competitive at both ends of the table.
Newly promoted Telepost C's next dose of Division One reality was a home meeting with current league champions Maddocks A. A potential double blank following the Newport whitewash was avoided courtesy of a fine win on board two by substitute Rob Nield against Glyn Pugh, which included this peach of a move: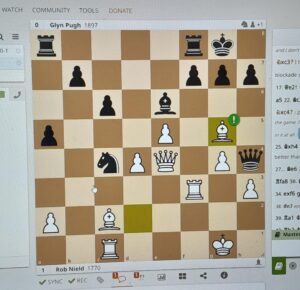 The match was preceded by a presentation by Shropshire Chess Association President Matthew Clark of the Colin Roberts Memorial Trophy to Maddocks captain Tony Preece, who won the brilliancy prize against strong competition from, amongst others, Telepost's Dan Hilditch-Love and Charlie Bethune.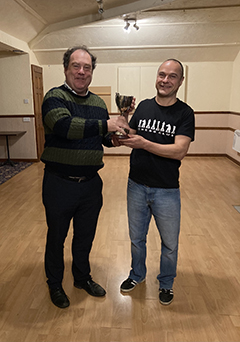 Telepost B are top of Division Two after a close encounter away to Newport B. Steve Kempsell lost against Newport's promising Junior Krishnaswaroop Thimmegowda but wins for top board Fred Bench and captain Steve Wilson and draws from John Westhead and Archie Flavell were enough to keep the Bs on track for a swift return to Division One.
A busy few weeks for Telepost Juniors included a narrow loss to Maddocks C – Henry Bedford won on bottom board against Henry Hrubis while brother Rudi claimed an excellent draw on top board against Ian Jamieson, playing with great patience in a long match. This followed Rudi's success in rapidplay at the Birmingham Junior Open where he finished joint top in his Under 11 group with an excellent 4.5/5, winning a gold medal. The next week, the Juniors went one better, securing their first point of the season with a draw against Church Stretton A, one of the likely contenders for promotion. Noah and Ellis Sharp both won on boards three and four and the draw was enough to take the Juniors above Telepost F, for whom mum Paula Sharp had made her league away debut to Newport Junior the week before. A strong looking Newport side edged that match 2.5-1.5 despite sub Fred Bench getting the better of Thimmegowda on board one.
The playoffs for the Shrewsbury Town Championship will involve five Telepost players, in a field of six, who will now play a mini Swiss tournament until an overall winner emerges. Particular congratulations to John Casewell and Alex Brims who have reached this stage alongside much higher rated players. A reminder that this season's Telepost Club Championship begins in November – please let Paul Billington know before the end of the month if you would like to enter this five-round Swiss competition. A reminder too of the Telepost Christmas Dinner, to be held at Coleham Tap on Friday December 15 – let Steve Wilson know if you would like to add your name. Steve is also now taking orders and deposits/payments for the meal.